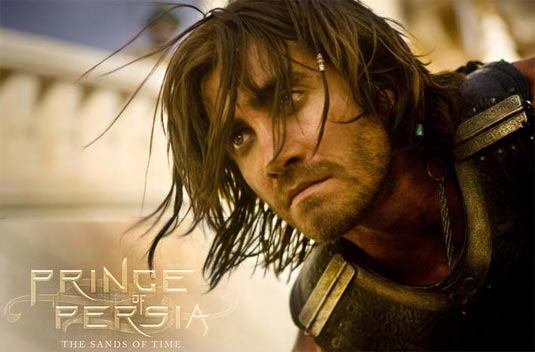 Walt Disney debuted a brand new footage from Prince of Persia: The Sands of Time during the Spike TV Video Game Awards.
Also, take a peek behind the scenes of "Prince of Persia." Much of the film was shot in the baking Moroccan desert and in London, and Jake Gyllenhaal trained for months to build and maintain his action-hero physique.
"Prince of Persia: The Sands of Time" is based off the popular video game, Gyllenhaal plays Prince Dastan a young man who reluctantly joins forces with a mysterious princess (Arterton) and together, they race against dark forces to safeguard an ancient dagger capable of releasing the Sands of Time—a gift from the gods that can reverse time and allow its possessor to rule the world.
The adaptation of the best-selling video game series stars Jake Gyllenhaal, Ben Kingsley, Gemma Arterton, Alfred Molina and Toby Kebbell. Director Mike Newell (Harry Potter and the Goblet of Fire) helmed from a story by Doug Miro and Carlo Bernard.

Prince of Persia: The Sands of Time – Jake Gyllenhaal as Prince Dastan and Producer Jerry Bruckheimer
"Prince of Persia: The Sands of Time" will hit theaters May 28, 2010.
Take a look at the clips below and don't forget to give us your comments.
"Prince of Persia: The Sands of Time," Spike TV 2009 Video Game Awards:
[youtube]http://www.youtube.com/watch?v=8vdaFOIDKTg[/youtube]
"Prince of Persia: The Sands of Time" Entertainment Tonight Set Visit: