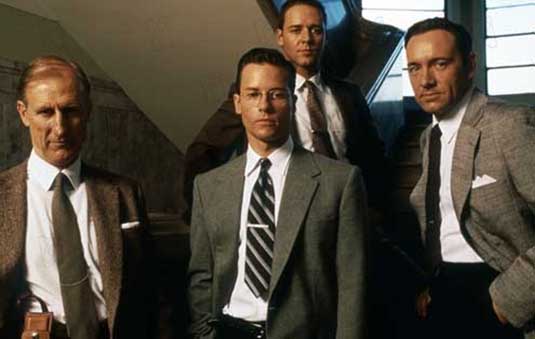 Get ready for L.A. Confidential sequel! Wait, not so fast! We're actually here to talk about a brand new pilot. Yeah, pilot, because we've learned that James Ellroy, man who wrote the original 1997 film with Kevin Spacey, Russell Crowe and Kim Basinger is shopping a sequel TV series. Head inside to find more details!
The news comes straight from Deadline, who report that Ellroy and New Regency are involved in the whole thing and that Ellroy wrote the project on spec as a TV drama series, "which is being pitched to broadcast and cable networks as well as emerging distribution platforms, with multiple outlets interested."
In other words – get ready for more scandals, more murders, more mystery and more organized crime, because the sequel is apparently one of the first major projects to come out of the TV division of New Regency.
And we all love that well-known story which revolves around a group of LAPD officers in the year 1953, and the intersection of police corruption and Hollywood celebrity.
Nothing to be surprised about. After all, the original movie (directed by Curtis Hanson) was nominated for nine Academy Awards and won two – Basinger for Best Actress in a Supporting Role and Hanson and Helgeland for Best Adapted Screenplay.