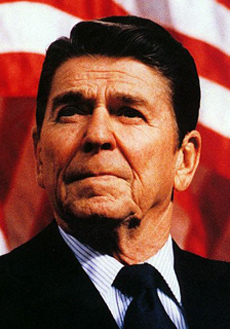 Another interesting life, and another interesting biopic. So, why not a good movie then?
With some great team it's definitely possible, so no wonder producers Mark Joseph (Ray), Ralph Winter (X-Men Origins: Wolverine), and Jonas McCord (Ask the Dust) have begun work on a biopic of Ronald Reagan!
The film will be called Reagan and it will center on the former actor and 40th president of the United States of America.
The material used will mostly come from two best-selling biographies by Paul Kengor: The Crusader and God and Ronald Reagan.
The film will track the entire life of Reagan rom childhood through the presidency.
At this moment we also know that the movie has a 30 million budget and will begin with the 1981 assassination attempt and tells Reagan's story through flashbacks and flash-forwards.
And yes, that means the project will not be a hit piece either like the Showtime mini series production The Reagans that produced such controversy back in 2003.
Reagan is set for a 2011 release, although no actors or director have been signed yet.
As usual, we'll keep you updated, so stay tuned!