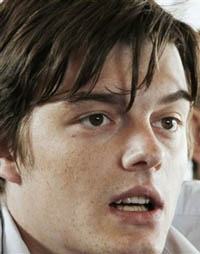 Christian Bale was in talks to appear as Robin Hood or that was just a rumor. New information, according to Latino Review is that Sam Riley will play Robin Hood in Ridley Scott's "Nottingham."
Russell Crowe, who will also star in "Nottingham" was impressed with Riley's performance in the Ian Curtis biopic "Control" and wants to cast him as the infamous outlaw although Scott was very eager to cast Bale in the role.
Sienna Miller will play Maid Marion in the drama that focuses on the Sheriff of Nottingham (Russell Crowe) as a noble and brave lawman who labors for a corrupt king and engages in a love triangle with Marion and Robin Hood.
Actors who have previously played Robin Hood on film include Errol Flynn, Sean Connery and Kevin Costner.
Sam Riley's screen credits include guest spots on police procedural drama "Law & Order" and the upcoming "Franklyn."