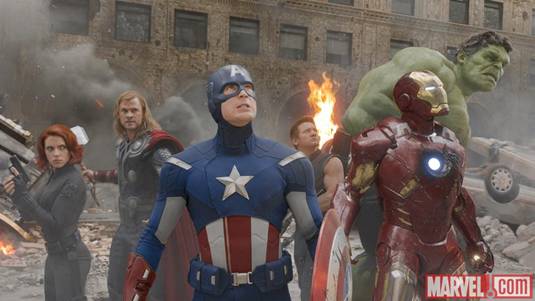 One more week until Earth's Mightiest Heroes assemble hit theaters and IMAX 3D in Marvel's The Avengers and now we're getting a brand new look at the big battle scene with seventeen new stills from EW and Marvel!
Starring Robert Downey Jr., Chris Evans, Mark Ruffalo, Chris Hemsworth, Jeremy Renner, Tom Hiddleston, Samuel L. Jackson, Scarlett Johansson and Cobie Smulders in the action adventure, written and directed by Joss Whedon.
Nick Fury (Jackson), Director of the international peacekeeping agency known as SHIELD, finds himself in need of a team to pull the world back from the brink of disaster as an unexpected enemy threatens global safety and security; spanning the globe, a daring recruitment effort begins.
Here are these fresh images to tide you over until next Friday, May 4th.