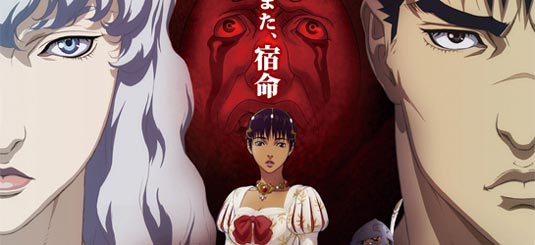 Well well. While we're biting our nails in expectation of the first Berserk The Golden Age Arc movie, The Egg of the King, those lucky Japanese will be able to see the second one on June 23rd, 2012. That's simply not fair!
The Yahoo! Movies Japan has streamed a special preview video on Monday for the second film, titled Berserk: The Golden Age II – The Battle for Doldrey. The first half of the video is a recap from the first movie.
Take a look:
[youtube]http://youtu.be/bwFIl-QAlbI[/youtube]
The second film is scheduled to run for about 100 minutes and will focus on the epic battle led by the Kingdom of Midland to retake Doldrey Castle from the Chuder Empire. The film will open in Japan on June 23, 2012. To my knowledge, the same cast and director are appearing in all three movies.
The trilogy has been licensed for distribution in 16 countries. Viz Media will release the first film in the trilogy this fall.
So, are you expecting these as much as I do? What part of this story did you like the best? Leave a comment!