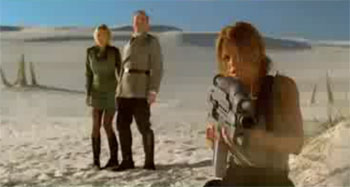 When I think of Starship Troopers, I think of Casper Van Dien. When I think of Starship Troopers 2, the only thing that comes to mind is silence, confusion and bewilderment. That's probably because no one was really aware of the existence of a Starship Troopers 2 (which was actually directed by visual effects wizard Phil Tippett and went straight-to-DVD) until the recent announcement that there would be a third film, titled Starship Troopers: Marauder.
But unlike the second film, which starred Billy Brown (whose most prolific role at that point was as the voice of Rhino in The Wild Thornberrys Movie), Marauder will bring back Johnny Rico…
Starship Troopers: Marauder is being produced by Sony's Stage 6 films and is directed by Edward Neumeier, who wrote and co-produced the previous two Starship Troopers film
Plot summary: The war against the Bugs continues! Johnny Rico is now a colonel, and called back into action to defeat the bugs.