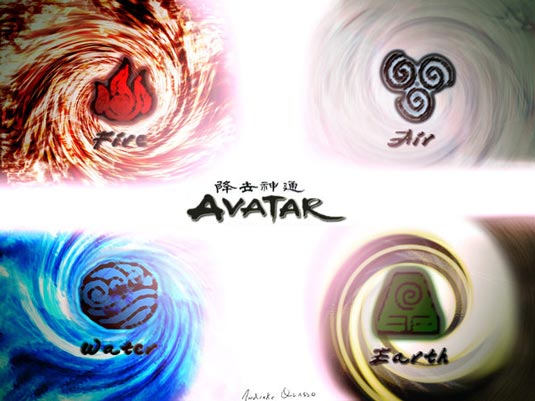 Ok, first of all, forgive me for this piece of 'old news', but we have been quite busy with the summer blockbuster announcements and Cannes Film Festival, so everything else went a bit into the background. There may still be some of you who haven't heard yet, so here goes.
For all of you who've seen and loved Avatar: The Last Airbender animated series (and hated the live-action movie) as much as I did, I'd say we probably shared the same nostalgic melancholy about the series coming to an end, when we realized 'there will be no more of it! Ever.'
So you can imagine the overwhelming happiness when I've heard a couple of months ago that there will be a sequel, after all. Regretfully, I put that off of my mind, what with all of the troubles I've had recently, but also hoping I would hear the news of it again, hopefully in time enough not to miss the premiere (which usually happens, even for movies/series/animes I don't follow THAT much) – but Murphy's laws had it otherwise. It opened on March 24th online (Damn! Three days after my birthday… what a great b-day present would that have been!), and April 14th on Nickelodeon.
Anyway, The Legend of Korra picks up about seventy years after the events from the first series, and the Avatar this time happens to be a girl from the Southern Water Tribe, Korra. She is hot-headed, rebellious and 'ready to take on the world', and we will be able to see her learning the Airbending skills graduately (the only incomplete bending development we haven't seen in the first part, since Aang was already titular 'the last Airbender'). In her battle against anti-benders, she will have the aid of Firebender Mako, Earthbender Bolin, and Tenzin, an Airbender and son of Aang and Katara.
Synopsis:
"Republic City is everything that Avatar Aang and Fire Lord Zuko fought for when they ended the Hundred Year War. With balance restored to the four nations, benders and non-benders can live together in peace, in this thriving metropolitan area. But even the steampunk paradise of Republic City has its problems, as the next Avatar discovers. When Avatar Korra arrives in Republic City to master her airbending, she comes face to face with criminal bending gAangs as well as members of a vocal anti-bending revolution. Before long, Korra's Avatar skills are put to the test when she encounters a group of Chi-blockers led by the charismatic and mysterious Amon, who threatens the city and all the benders in it. Despite the immense danger, Korra vows to fight the growing anti-bending revolution. But will she be able to stop Amon before he rises to power and makes his vision of a bending-free world a reality?"
When Avatar: The Last Airbender came to an end, the creators had planned for it to be final. But, the show had a great success and no wonder, with 'key ingredients' such as interesting, original and hearfelt story, greatly developed, lovable characters whom you could sympathize and identify with, and beautiful, flowing animation, especially fighting scenes – according to some, one of the best and smoothest animated fighting scenes ever. All that and spiced with wonderful music. Another big contribution to the series' success was popularity of its (head)strong female characters among the female public, and that is the reason why the creators decided to have a female lead action role, which was 'traditionally reserved' for males (and we congratulate them!).
Having almost entire team that worked on the first series back, I am sure that the sequel, planned in two seasons for now, will have the same, if not greater, amount of success.
Originally planned title Avatar: Legend of Korra is left for the international version, while the mentioned one is for US (it had something to do with the James Cameron's Avatar trademark applications, which annoys me to some point, since the Avatar: The Last Airbender showed up way before Cameron's, after all, and *I* am not the hair-splitter here!).
Directed by Joaquim Dos Santos and Ki Hyun Ryu, written by Michael Dante DiMartino and Bryan Konietzko, the series stars voices of Janet Varney as Korra, J.K. Simmons as Tenzin, David Faustino as Mako, P.J. Byrne as Bolin, Dee Bradley Baker (who gave voices to Momo and Appa in the first series) for additional voices, and others.
Oh and, as a way of saying 'sorry', I'll try to bribe you with those two hi-res posters up there, a trailer and an opening title. Not enough? You munchkins! That's all for now, off I go to watch it!
[youtube]http://www.youtube.com/watch?v=54srZLuYfb0#[/youtube]
[youtube]http://www.youtube.com/watch?v=uSM4JIEl9dI[/youtube]