Watch Rutger Hauer in this trailer video for Polish filmmaker Lech Majewski's upcoming history-drama film  "The Mill and The Cross," co-starring Michael York and Charlotte Rampling.
Pieter Bruegel's epic masterpiece "The Way To Calvary" depicts the story of Christ's Passion set in Flanders under brutal Spanish occupation in the year 1564, the year Bruegel created his painting.
From among the more than 500 figures that fill Bruegel's remarkable canvas, THE MILL & THE CROSS focuses on a dozen characters whose life stories unfold and intertwine in a panoramic landscape populated by villagers and red-caped horsemen. Among them are Bruegel himself (Rutger Hauer), his friend and art collector Nicholas Jonghelinck (Michael York) and the Virgin Mary (Charlotte Rampling). One of today's most adventurous and inspired artists and filmmakers, Lech Majewski (screenwriter of Basquiat), invites the viewer to live inside the aesthetic universe of the painting as we watch it being created. Majewski worked for three years to complete the film, pioneering a new method to "enter" a painting and watch the characters come to life that leads to magical results. LikeRussian Ark, the film is an unforgettable synthesis of art and life. It's also a feast of stunning visual effects, a provocative allegory and a cinematic tour de force on religious freedom and human rights.
Kino International presents The Mill and The Cross, opening September 30, 2011, at Landmark's Nuart Theatre in Los Angeles for a one-week engagement.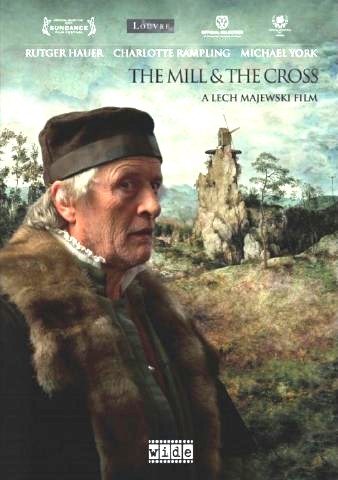 The Mill and The Cross