http://eefi.de/?p=Home-Business-Maryland Home Business Maryland
http://blog.xorn.org/?p=Best-Trading-Platform-For-Indian-Stocks Best Trading Platform For Indian Stocks
One of the finest recent works of the critically adored Coen Brothers, this is a remake rarity in that it is vastly superior to its (John Wayne starring) original. Jeff Bridges takes the Wayne role of the eye patched US Marshall Rooster Cogburn, hired by a teenage girl to kill the man who murdered her father. Managing to blend the characteristics that make the Coen Brothers films unique with the essential genre elements, the combination is unmissable. As an important entry to the genre as anything in the last four decades, with breathtaking cinematography by Roger Deakins and poetic language to give proceedings added authenticity. But the real star of the film is young Hailee Steinfeld, showing maturity far beyond her fourteen years. It takes a lot for anyone to capture centre stage from established actors like Bridges and Matt Damon, but Steinfeld seems to manage it effortlessly. A truly fantastic film, that takes on the Westerns of the past and beats them at their own game.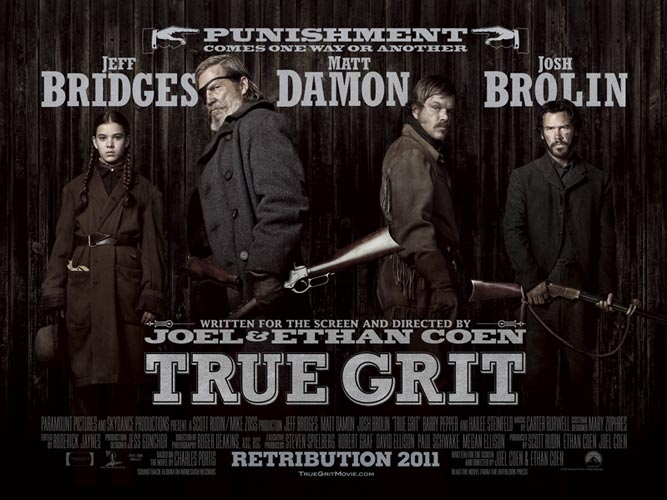 2. The Assassination of Jesse James by the Coward Robert Ford (2007)
New Zealand director Andrew Dominik's take on one of the most famous legends of the west is a stunning, haunting and poetic take on one of the renowned myths of the era. Brad Pitt has rarely been better than he is here as the leader of the James gang, but it is Casey Affleck's career making portrayal of the titular coward that is most memorable. Lingering looks, underlying homoeroticism, admiration bordering on obsession, it is a magnificent, tragic performance that is fully deserving of the highest praise. Jesse James's celebrity was sealed during his lifetime, with newspaper stories and dime novels published before he was shot in the back, this look at the cult of personality is a slow, expertly crafted western that may be low on violence and action, but is full of atmosphere and intelligence that makes it worthy of being spoken about in the same vain as the very best of the genre.
3. Open Range (2003)
Another entry directed by a veteran actor, Open Range is arguably the best thing Kevin Costner has ever done, in front or behind the camera. A western in the grand, sweeping, old school horse opera sense, this is a slow burning joy. Kevin Costner and Robert Duvall's relationship has genuine warmth, and Annette Bening brings an extra layer of class as a love interest, all of which helps make the outstanding final shootout an even more emotive experience.
4. The Three Burials of Melquaides Estrada (2005)
Tommy Lee Jones' first, and so far only venture into the director's chair is the work of filmmaking maturity. Perfect pacing and beautiful location shooting, capturing Texas in all its sundrenched glory and despair, Three Burials is a modern western, a story of loneliness, revenge, redemption, and friendship. After Estrada (Julio Cedillo) is accidentally shot dead by a Border Controlman, his friend, a modern cowboy played by Lee Jones captures his killer and forces him on a bizarre trek by foot and by horse with the corpse to Mexico to give his friend the burial he wanted. Proving he is also a fine director of actors, Jones brings out marvellous performances from all involved; one can only hope he gets the directors bug soon again.
5. The Proposition (2005)
The Wild West is traded for the Wild Outback in this tough as nails Australian drama. Despite the locale change, the western spirit is alive and well as a British captain (Ray Winstone) is attempting to tame the violent land. Criminal Guy Pearce is given the titular proposition; kill his older brother to save his youngest from being hung. Brutal, aggressive and full of machismo, director John Hillcoat characterises the untamed landscape in a similar way John Ford did many years ago.