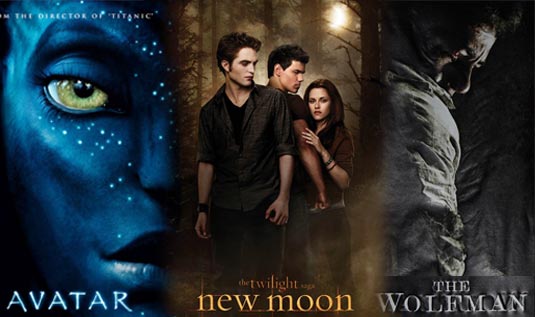 We have some very useful and interesting information for you. Here are release dates of the most interesting trailers which will be shown in theaters.
August 14th:
New Moon trailer in front of Bandslam
August 21st:
Avatar trailer and 15 minutes of footage from Avatar!
The Wolfman in front of  Inglourious Basterds
Inception in front of  Inglourious Basterds
UPDATE
For fans who simply can't wait for Friday, a 14-second clip of the new  The Twilight Saga: New Moon teaser trailer will be airing nationwide, starting Tuesday, August 11th.
*** For online and broadcast outlets, the 14-second clip will be available today from 9am – 9:15am EST/6am – 6:15am PST (will loop for 15 minutes) on Transponder GAL28C-15 with downlink frequency 4000.0000 V (orbital position 80 degrees west).***