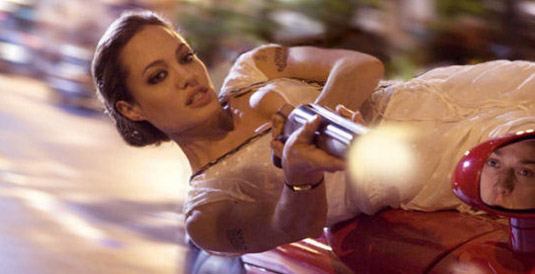 Yes, we know, when it comes to Wanted 2, the most asked question is – did Angelina Jolie kill it?
So, maybe the best thing that author Mark Millar did, is an interview with MTV, where he confirmed that Universal and director Timur Bekmambetov are planning to move on without Jolie and put together the film anyway with a new character from the comic book in place of Jolie.
Check what Millar actually said:
"They killed off the most recognizable character, but I thought it was great to do that. It was so ballsy to kill off the one person you didn't expect to die."
Yeah, well who knows, maybe that was a nice move, but now, there might be another problem. What's going to happen to a sequel, without Angelina Jolie?
We all know that her name in the whole thing was a kind of guaranty for movie success, but what now? Seems like Millar doesn't see the problem, since he said:
"…what they're talking about is just moving on with the story and doing it properly. Just bringing in another cool character as this world opens up with all the different fraternities out there all across the world. This could change at any moment, but the last I heard two weeks ago, was that was the plan moving forward."
And this is an interesting moment, indeed, especially if you remember what Angelina Jolie had to say about the Wanted role:
"In the original, she doesn't kill herself, I actually changed the ending. I said, 'If she was to find out she had killed people unjustly and was a part of something that wasn't fair, then she should take her own life."
That could be the main reason why most fans are happy seeing Jolie's character Fox not return anyway simply because, well, she died, right?
Well, what do you think? What another strong female lead you expect to see, or are you one of those who hoped Angelina Jolie will be the part of this sequel?