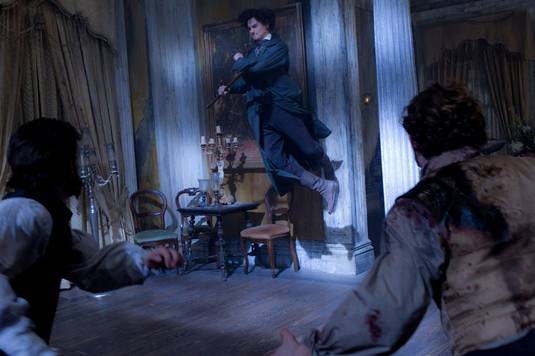 Dear all, another WonderCon premiere hits the web: 20th Century Fox revealed the second trailer for Abraham Lincoln: Vampire Hunter this weekend. Vampire Hunter theatrical promo does have some action scenes that haven't been seen before.
The action period movie based on the 2010 book by Seth Grahame-Smith, starring Benjamin Walker as Honest Abe and is directed by Timur Bekmambetov and produced by Tim Burton.
The piece follows the 'secret history' of the famous 16th U.S. president, revealing that young Abraham's mother (Robin McLeavy) was murdered before his very eyes, which fuels his passion to crush vampires and their slave-owning helpers.
The film's also starring Mary Elizabeth Winstead, Dominic Cooper, Alan Tudyk, Rufus Sewell and Anthony Mackie.
Vampire Hunter arrives in theaters on June 22nd, 2012.
You can now check it out thanks to IGN Movies.
[youtube]http://www.youtube.com/watch?v=9ZOTQCO05zo[/youtube]