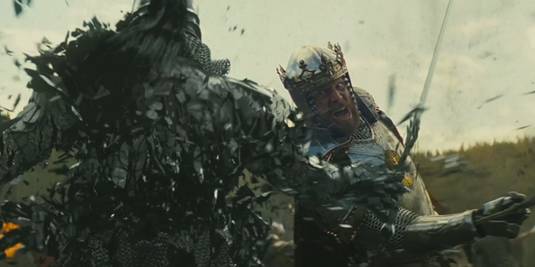 The film's official YouTube page added a new TV Spot with new footage of the Dwarves and Prince William and Snow White and Evil Queen.
Some birds fly onto the screen, then explode into thousands of more birds and there's a quick battle scene, so if you have soldiers made out of glass, you will probably break a lot of your soldiers in a world where lies a kingdom that consists of a scary forest and a giant castle.
However, Universal Pictures has released the fourth TV spot for Snow White and the Huntsman, the epic action-adventure directed by Rupert Sanders, which stars Kristen Stewart, Charlize Theron, Sam Claflin, Chris Hemsworth, Ian McShane, Bob Hoskins, Toby Jones, and Eddie Marsan.
The breathtaking new vision of the legendary tale opens June 1st, 2012.
Check out all of the main characters introduced in this latest spot.
[youtube]http://www.youtube.com/watch?v=z8f9bsS5EE8[/youtube]