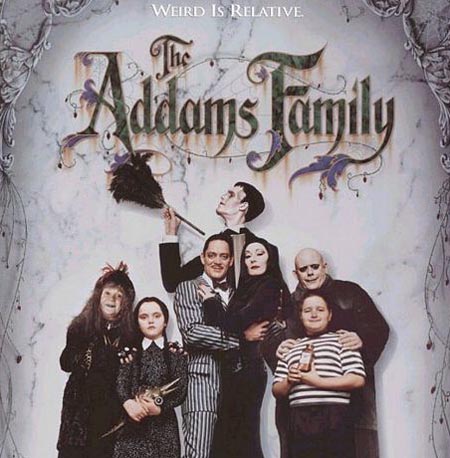 Tim Burton will direct a stop-motion animated film based on Charles Addams' original ghoulish cartoon drawings of The Addams Family?
Yes, well, we were little surprised with this yesterday news as well, because it sounded quite strange to expect that this will be the next project, especially after Alice in Wonderland. Animation world again? Or maybe not?
So let's remind. Our spooky Addams friends, last appeared on the big screen in 1993's Addams Family Values. So we all remember the story, a wealthy husband and wife with two kids and a live-in uncle, well known family with eccentric, ghoulish behavior.
Television and film characterizations of the family highlighted the satirical elements, so no wonder we all love them.
And now, for a moment, seemed like Burton is going to make his own Addams film, different from the television series and long feature films released so far.
And of course, the film would also be 3D, which in itself should weigh pretty heavily with all Addams Family fans.
Who knows, maybe this is not such a bad idea, but still we must agree that most of the people prefer original scripts as the inspiration for feature films. But let's sound official for a moment!
It was reported that "Burton would be directing a 3D stop-motion animation film based on Charles Addams' original drawings that would not be directly related to the litany of Addams Family films and television series that have come before".
Since the rumors spread out quickly, and since Burton loves working with his wife Helena Bonham Carter and Johnny Depp speculation is already ripe that they will be cast as leads Morticia and Gomez.
We also had a chance to hear something like this: "Meladandri will produce the film. Kevin Miserocchi of the Tee and Charles Addams Foundation will be executive producer. A writer will be hired shortly."
Well, as you all can see, this doesn't sound too convincing, since it could very well be something that Burton will be working on in the near or far future, but there just haven't been any decisions made yet.
Not to mention that Alice-mania is still on! So now, the question is – will our favorite family have the 3D version, or this is still not the right time?
So there you go, another thing to think about, will this be the next big Burton project, or maybe just a gossip?
He sure has the whole experience in the world, but we'll just have to wait for more information, that's why you should definitely stay tuned!