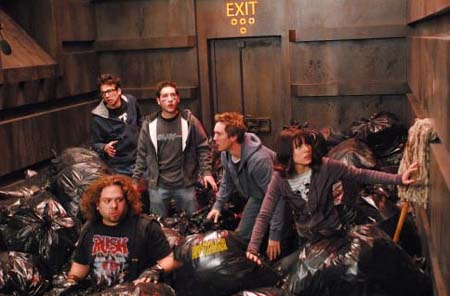 In "Fanboys," a group of friends who are avid Star Wars fans travel west to see the Holly Grail of all sci-fi movies, "Star Wars: Episode I." The year is 1999 and for these death star dorks, the Star Wars films are more than just movies; they are a way of life.
So, after one of the group takes sick it is nothing short of a moral imperative that the friends break into George Lucas' Skywalker Ranch to watch the seminal sci-fi picture together before its release. Enlisting the help of an estranged friend, who has traded in his Darth Vader mask for a proper day job, the adventure lays way to some extremely funny situations, including an outrageous brawl with some hard-core Trekkies.
"Fanboys" directed by Kyle Newman, stars Dan Fogler, Jay Baruchel, Kristen Bell, Chris Marquette and Sam Huntington.
The Weinstein Company originally scheduled Fanboys for release a few years back but kept delaying it due to test screening complaints and other issues. It looks like the flick will finally hit theaters February 6, 2009.
[flv]http://cache01-videos02.myspacecdn.com/24/vid_21092e16bff0c0d7c76ec2372eecadf8.flv[/flv]