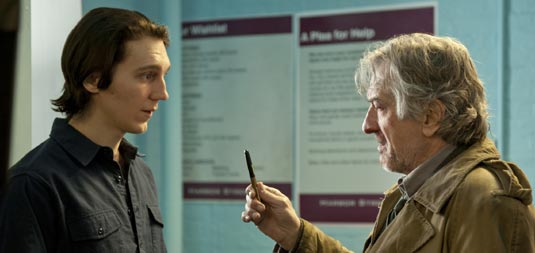 Don't know why, but I expected to see something completely different from the upcoming
Being Flynn
movie. Today we have some great photos as well as poster for the whole thing.
Robert De Niro, Paul Dano, Julianne Moore, Lily Taylor
and
Olivia Thirlby
all star in this story
that reveals universal truths
…
Paul Weitz
' directed movie centers on Nick Flynn (Dano), a young writer seeking to define himself. He misses his late mother, Jody (played by Moore) and her loving nature. But his father, Jonathan, is not even a memory, as Nick has not seen the man in 18 years. On the other hand Jonathan Flynn (De Niro) has long defined himself as a great writer, "a master storyteller."
After abandoning his wife and child, he scrapes through life on his own terms. Despite the occasional grandiose letter to his son, he has remained absent from Nick's life. Suddenly facing eviction from his apartment, Jonathan impulsively reaches out to Nick and the two come face-to-face. Being Flynn is set to open in limited release on March 2nd, 2012.