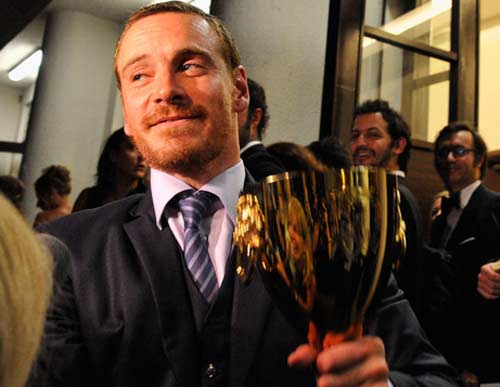 I admit. I wasn't so impressed with this year's Venice Film Festival. Don't know why, but every single time I actually tried to pay some attention on the movies that were in contention, I immediately cheated them all with Yorgos Lanthimos' Alps. Or even worse, with Roman Polanski's Carnage.
C'mon, just check out the LineUp for this year's Venice Festival
I swear, if this report was a man, I would be one of those crazy bitches who deserve to be left. But, let's cut the crap, because the whole thing is finally over, and we have the lucky winner. Let us all see what the hell happened in Venice.
Believe it, or not, but Aleksander Sokurov's Faust won the Golden Lion for Best Film at the beating high-profile contenders such as above mentioned Carnage and Steve McQueen's Shame.
I mean, we're talking about a retelling of Goethe's tragedy, and the final part of a four-part series about men of power, story that focuses on Hitler (Moloch 1999), Lenin (Taurus 2000) and Emperor Hirohito (2005 film The Sun about Japanese Emperor).
Damn you Aronofsky! You call yourself a jury leader?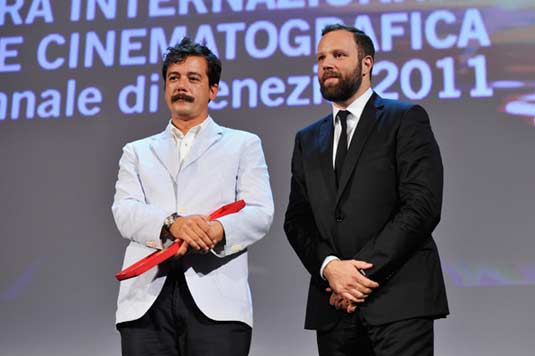 And now, watch out – surprise attack! The Silver Lion for Best Director went to Cai Shangjun for the project titled People Mountain People Sea. Deanie Yip won Best Actress for her performance in A Simple Life.
Yorgos Lanthimos' Alps won Osella for Best Screenplay and Andrea Arnold's Wuthering Heights was awarded the prize for Best Cinematography.
Michael Fassbender recevied Coppa Volpi for Best Actor for his role in Shame.
Shame, indeed.
You can now check out the complete list of winners. Just in case you still care!
The Complete List of Winners:
GOLDEN LION for Best Film
Faust, directed by Aleksander Sokurov (Russia)
SILVER LION for Best Director
Cai Shangjun, People Mountain People Sea (China)
SPECIAL JURY PRIZE
Terraferma, directed by Emanuele Crialese (Italy)
COPPA VOLPI for Best Actor
Michael Fassbender, Shame (UK)
COPPA VOLPI for Best Actress
Deanie Yip, A Simple Life (China)
OSELLA for Best Screenplay to
Yorgos Lanthimos and Efthimis Filippou, Alps (Greece)
MARCELLO MASTROIANNI AWARD for Best Young Actor or Actress
Shôta Sometani and Fumi Nikaidô, "Himizu" (Japan)
OSELLA for Best Cinematography
Robbie Ryan, Wuthering Heights (UK)
Luigi De Laurentiis' Venice Award for a Debut Film
Là-bas, directed by Guido Lombardi (Italy)
[youtube]http://www.youtube.com/watch?v=swGWuuAxT-M[/youtube]
The Awards Ceremony of 68th Venice Film Festival
ORIZZONTI
Orizzonti Award (full-length films)
"Kotoko," directed by by Shinya Tsukamoto (Japan)
Special Orizzonti Jury Prize (full-length films)
"Whores' Glory," directed by Michael Glawogger (Austria, Germania)
Orizzonti Award
"Accidentes Gloriosos," directed by by Mauro Andrizzi and Marcus Lindeen (Sweden, Denmark, Germany)
Orizzonti Award (short films)
"In attesa dell'avvento," directed by Felice D'Agostino and Arturo Lavorato (Italia)
Special Mentions
"The Orator," directed by Tusi Tamasese (New Zealand, Samoa)
"All The Lines Flow Out," directed by Charles LIM Yi Yong (Singapore)
CONTROCAMPO ITALIANO
Controcampo Award (for narrative feature-length films)
"Scialla!," directed by Francesco Bruni
Controcampo Award (for short films)
"A Chjàna," directed by Jonas Carpignano
Controcampo Doc Award (for documentaries)
"Pugni chiusi," directed by Fiorella Infascelli
Special Mentions
to the documentary "Black Block," directed by Carlo Augusto Bachschmidt
to Francesco Di Giacomo for the cinematography of "Pugni chiusi"
Golden Lion for Lifetime Achievement
Marco Bellocchio
Jaeger-LeCoultre Glory to the Filmmaker Award 2011
Al Pacino
Persol 3D Award for the Most Creative Stereoscopic Film of the Year
Zapruder Filmmakers Group (David Zamagni, Nadia Ranocchi and Monaldo Moretti)
L'Oréal Paris Award for Cinema
Nicole Grimaudo