Oh, you're here! I mean – you're still hoping that the Oscar is worth watching? A large faith you might seem to have is called natural optimism, and that's actually not a bad thing. Except, of course, when it comes to 84th Oscar Academy Awards. If you ask me – I'm really "enthusiastic" with the Best Picture part of the night. You know, that's the part when one Extremely Loud War Horse comes Incredibly Close to offer The Help to the little Hugo, but he has no Money, no Descendants and no Balls to climb up The Tree of Life, so (quite logically) The Artist will go home to Paris with a golden statue. Anyway, make sure you stay tuned to our Live Blog, and prepare that Refresh button 'cause it's going to be one hell of a boring night! So, we all survived Billy Crystal singing? Ok then, let's see what Tom Hanks is doing out there. Oh, look, he'll tell us who won an Oscar for Best Cinematography. Hugo? No way, shit really happens after all!
And, once again – Best Art Direction – Hugo. With that I could agree. Best Cinematography part – forgive but not forget! Jennifer Lopez and Cameron Diaz are all dressed up because the next categories are Best Costume Design and Best Make-Up. And here's the first Oscar for The Artist for Best Costume Design while the Oscar for Best Make-Up goes to The Iron Lady. Completely insane but true: looks that black & white is so trendy this year. Sandra Bullock, charming as usual, only this time in…German. Anyway, the winner in best foreign film category is  A Separation. Christian Bale is here to tell us who is the lucky winner in best supporting actress category. And the winner is… crying? Octavia Spencer really needs The Help. Oscar is in her hands already!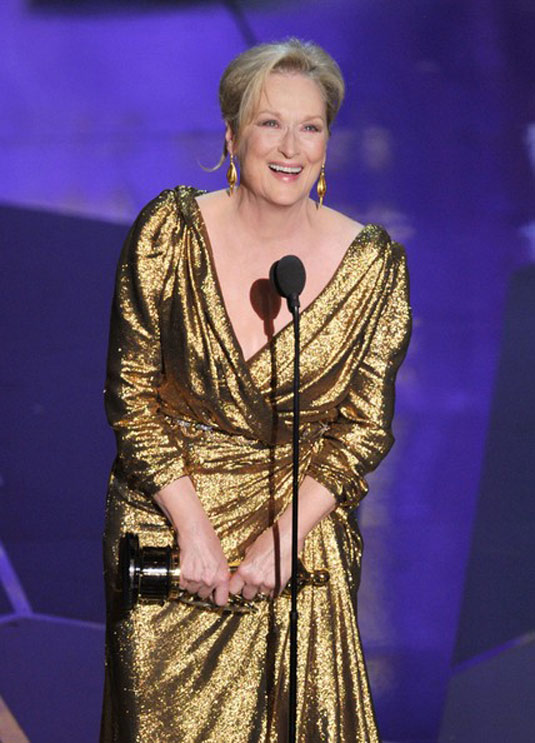 Let's jump to Film Editing category. Bradley Cooper and Tina Fey are saying something funny, the crowd is laughing, I mean – they're obligated to do that! But I'm not, so I'm just going to say that I'm happy to hear that The Lady With The Dragon Tattoo won the Oscar for Best Editing, and add that Hugo will "drive" home with another statue for Sound Editing. Unbelievable. Drive had only one nomination in this stupid category and Hugo just took it? Oh, look, the nightmare continues, Hugo wins in Best Sound Mixing as well. Robert Downey Jr. is doing something awkward and Gwyneth Paltrow is helping him. The only thing I can catch is that Downey Jr. looks like a dwarf next to Paltrow, but that's not important because we have Best Documentary winner – Undefeated movie. And since you already know who the nominees for Animated Feature Film are, Chris Rock will inform you who the lucky winner is. Rango, imagine that? We can live with that. Yeah, totally. Emma Stone looks interesting in that red dress. Ben Stiller's ears are huge this year. And the Oscar for Visual Effects goes to Hugo. So predictable. I totally forgot that Melissa Leo will present at this year's Oscar. Shame on me. But I'm still happy to hear that Christopher Plummer won the Osar for Best Supporting Role for Beginners. Billy Crystal is still obsessed with George Clooney's lips, but who cares? We're continuing with Owen Wilson and Penelope Cruz who will tell us who won in Original Score category. The Artist! Is this the second Oscar for this movie tonight? Looks it is. Oh, shit, we have the first paper-wish-list here! What the hell, let the guy celebrate!
And now, the funny moment, Will Ferrell and Zach Galifianakis give the Oscar for Best Original Song to The Muppets! We all knew, but Angelina Jolie confirmed it to us that the guys behind The Descendants script are the winners in The Best Adapted Screenplay Category. On the other hand, Woody Allen, who is (again) missing, wins the Oscar for Best Original Screenplay. Yeah, yeah, The Midnight in Paris has the best original screenplay, and now back to the commercials please! Milla Jovovich is one great looking lady. And she's gone. What the hell just happened out there? Oh, wait, that's Milla's new trick from Resident Evil? It has to be! But don't worry, Bridemaids are here to inform us that The Shore by Terry George wins Best Live Action short, then we have Saving Face as Best Documentary Short and Fantastic Flying Book Of Mr Morris Lessmore wins Best Animated Short. They all look happy, and we all look bored.
And now, probably one of the best parts of this horror. Michael Douglas has the honor to present the Oscar for Best Director. Ok, I'm excited…. I still am… Not anymore. The Artist wins. I mean, Michel Hazanavicius wins Best Director for The Artist. They say red dress is always a nice choice for the red carpet. Natalie Portman is a living proof! And now, the Oscar for Best Actor! Get ready, I have a totally bad feeling, folks! I told you so – it's Jean Dujardin!
Colin Firth looks like he's about to win another Oscar this year. But no, he's here to present the award for Best Actress. If you ask me – Glenn Close is awesome, but of course – she will not win. Rooney Mara – no way. Michelle Williams – nice try, but no… Viola Davis – has a chance. Meryl Streep – hm, unfortunately not this time. WAIT WHAT??? MERYL STREEP WINS! Yes! I knew that Tom Cruise will fuck this up! The Artist wins The Best Picture. I can NOT believe it! Somebody answer me – are we officialy over now??? Here's the full list of winners: BEST PICTURE – The Artist – Moneyball – The Descendants – The Tree of Life – Midnight in Paris – The Help – Hugo – Extremely Loud & Incredibly Close – War Horse BEST DIRECTOR – Alexander Payne – The Descendants – Michel Hazanavicius – The Artist – Martin Scorsese – Hugo – Woody Allen – Midnight in Paris – Terrence Malick – Tree of Life BEST ACTOR – Jean Dujardin – The Artist – Gary Oldman – Tinker Tailor Soldier Spy – George Clooney – The Descendants – Brad Pitt – Moneyball – Demian Bichir – A Better Life BEST ACTRESS – Meryl Streep – The Iron Lady – Viola Davis – The Help – Michelle Williams – My Week With Marilyn – Glenn Close – Albert Nobbs – Rooney Mara – The Girl with the Dragon Tattoo BEST SUPPORTING ACTOR – Christopher Plummer – Beginners – Kenneth Branagh – My Week With Marilyn – Nick Nolte – Warrior – Jonah Hill – Moneyball – Max Von Sydow – Extremely Loud and Incredibly Close BEST SUPPORTING ACTRESS – Berenice Bejo – The Artist – Jessica Chastain – The Help – Melissa McCarthy – Bridesmaids – Janet McTeer – Albert Nobbs – Octavia Spencer – The Help BEST ORIGINAL SCREENPLAY – Michel Hazanavicius – The Artist – Kristen Wiig & Annie Mumolo – Bridesmaids – J.C. Chandor – Margin Call – Woody Allen – Midnight in Paris – Asghar Farhadi – A Separation BEST ADAPTED SCREENPLAY – Alexander Payne, Nat Faxon & Jim Rash – The Descendants – John Logan – Hugo – Aaron Sorkin & Steven Zaillian – Moneyball – George Clooney – The Ides of March – Peter Straughan & Bridget O'Connor – Tinker Tailor Soldier Spy BEST ANIMATED FILM – A Cat in Paris – Chico & Rita – Kung Fu Panda 2 – Puss in Boots – Rango BEST FOREIGN LANGUAGE FILM – Bullhead (Belgium) – Monsieur Lazhar (Canada) – A Separation (Iran) – Footnote (Israel) – In Darkness (Poland) BEST CINEMATOGRAPHY – Guillaume Schiffman – The Artist – Jeff Cronenweth –The Girl with the Dragon Tattoo – Robert Richardson – Hugo – Emmanuel Lubezki –The Tree of Life – Janusz Kaminski –War Horse BEST DOCUMENTARY – Pina – Hell and Back Again – If A Tree Falls: The Story of the Earth Liberation Front – Paradise Lost 3 – Undefeated BEST DOCUMENTARY SHORT – The Barber of Birmingham: Foot Soldier of the Civil Rights Movement – God Is the Bigger Elvis – Incident in New Baghdad – Saving Face – The Tsunami and the Cherry Blossom BEST SHORT FILM (ANIMATED) – Dimanche/Sunday – The Fantastic Flying Books of Mr. Morris Lessmore – La Luna – A Morning Stroll – Wild Life BEST SHORT FILM (LIVE-ACTION) – Pentecost – Raju – The Shore – Time Freak – Tuba Atlantic BEST VISUAL EFFECTS – Harry Potter and the Deathly Hallows: Part 2 – Hugo – Real Steel – Rise of the Planet of the Apes – Transformers: Dark of the Moon BEST ART DIRECTION – The Artist – Harry Potter and the Deathly Hallows: Part 2 – Hugo – Midnight in Paris – War Horse BEST COSTUME DESIGN – Anonymous –

The Artist

– Hugo – Jane Eyre – W.E. BEST MAKEUP – Albert Nobbs – Harry Potter and the Deathly Hallows: Part 2 – The Iron Lady BEST FILM EDITING – The Artist – The Descendants – The Girl with the Dragon Tattoo – Hugo – Moneyball BEST SOUND MIXING – The Girl with the Dragon Tattoo – Moneyball – Hugo – Transformers: Dark of the Moon – War Horse BEST SOUND EDITING – Drive – The Girl with the Dragon Tattoo – Hugo – Transformers: Dark of the Moon – War Horse BEST ORIGINAL SCORE – John Williams – The Adventures of Tintin – Ludovic Bource – The Artist – Howard Shore – Hugo – Alberto Iglesias – Tinker Tailor Soldier Spy – John Williams – War Horse BEST ORIGINAL SONG – 'Man or Muppet'

from

The Muppets – 'Real in Rio' from Rio