The Spirits, run by the nonprofit Film Independent, threw in some of its typically enjoyable ironic touches. One of them was definitely
David Spade
who presented the best foreign award, starting with: "You may not know this, but my movies play in other countries. They're huge in Poland. I can't set foot in Bulgaria." Thanks for letting us know Spade!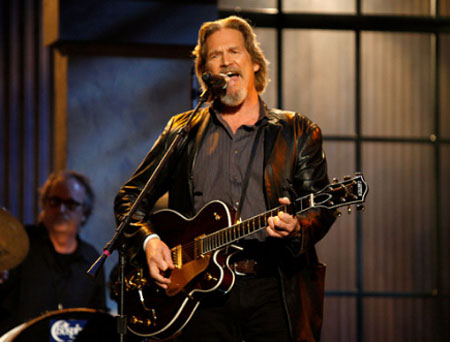 On the other hand, we had a chance to see
Ben Stiller
, known for studio comedies more than any boutique film, but this time he was in role of presenter of the top award of best feature. As usual, he made audience laugh, this time he brought on two women and a man introduced as porn stars to roll around in simulated sex while he announced the nominees for best picture. Crazy as always. We could not expect more from
Precious
, simply because the movie
won for all five categories in which it was nominated
: Best Feature, Best Director (
Lee Daniels
), Best Female Lead (
Gabourey Sidibe
), Best Supporting Female (
Mo'Nique
), and Best First Screenplay (
Geoffrey Fletcher
). Impressing indeed. "Kathryn Bigelow isn't here tonight. I am," said Daniels.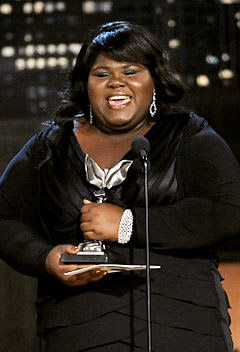 You all had a chance to see young
Gabourey Sidibe
at Oscar night and her excitement, but she also had an interesting speech when she received her Best Actress award, saying: "My mom used to pay me $2 to go to school…and I saved up my money for a week so that I could see
Welcome to the Dollhouse
and that's the first film I saw where I could say 'I could do that." We were all happy to see
Scott Neustadter & Michael H. Weber
win for their screenplay for
500 Days Of Summer
since we already wrote about this one, as well as
An Education
receiving an award for Best Foreign Film, and
A serious man
for Best Cinematography. Other Oscar nominees were big winners that night, too.
Jeff Bridges
won Best Actor for
Crazy Heart
which also won Best First Feature.
Woody Harrelson
was named Best Supporting Actor for
The Messenger
. Seems like Bridges definitely had a good year… So, it was a nice entertaining show, even if the lights made it difficult to watch at times, we heard that there were some complaining about that. Anyway, we guess everybody had a good time, as we were while watching. Hope next year to be even better! Check out the full list of all the award winners (winners in bold).
BEST FEATURE
Precious
Amreeka 500 Days of Summer Sin Nombre The Last Station
BEST FIRST FEATURE Crazy Heart
A Single Man Easier With Practice Paranormal Activity The Messenger
BEST DIRECTOR Lee Daniels – Precious
Ethan Coen & Joel Coen – A Serious Man Cary Fukunaga – Sin Nombre James Gray – Two Lovers Michael Hoffman – The Last Station
BEST MALE LEAD Jeff Bridges – Crazy Heart
Colin Firth – A Single Man Joseph Gordon-Levitt – 500 Days Of Summer Souléymane Sy Savané – Goodbye Solo Adam Scott – The Vicious Kind
BEST FEMALE LEAD Gabourey Sidibe – Precious
Maria Bello – Downloading Nancy Helen Mirren – The Last Station Gwentyth Paltrow – Two Lovers Nisreen Faour – Amreeka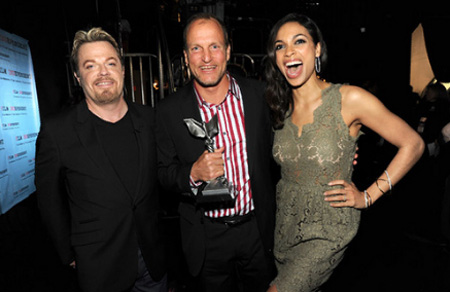 BEST SUPPORTING MALE Woody Harrelson – The Messenger
Jemaine Clement – Gentleman Broncos Christian McKay – Me and Orson Welles Raymond McKinnon – That Evening Sun Christopher Plummer – The Last Station
BEST SUPPORTING FEMALE Mo'Nique – Precious
Dina Korzun – Cold Souls Samantha Morton – The Messenger Natalie Press – Fifty Dead Men Walking Mia Wasikowska – That Evening Sun
BEST SCREENPLAY Scott Neustadter & Michael H. Weber – 500 Days Of Summer
Alessandro Camon & Oren Moverman – The Messenger Michael Hoffman – The Last Station Lee Toland Krieger – The Vicious Kind Greg Mottola – Adventureland [youtube]http://www.youtube.com/watch?v=12oNDZkStLw&feature=channel[/youtube]
Crazy Heart director Scott Cooper at the 2010 Independent Spirit Awards
BEST FIRST SCREENPLAY Geoffrey Fletcher – Precious
Sophie Barthes – Cold Souls Scott Cooper – Crazy Heart Cherien Dabis – Amreeka Tom Ford & David Scearce – A Single Man
BEST CINEMATOGRAPHY Roger Deakins – A Serious Man
Adriano Goldman – Sin Nombre Anne Misawa – Treeless Mountain Andrij Parekh – Cold Souls Peter Zeitlinger – Bad Lieutenant: Port of Call New Orleans
BEST DOCUMENTARY Anvil! The Story of Anvil
Food, Inc. More Than a Game October Country Which Way Home
BEST FOREIGN FILM An Education (UK/France)
A Prophet (France) Everlasting Moments (Sweden) Mother (South Korea) The Maid (Chile)
JOHN CASSAVETES AWARD
(Best feature made for less than $500,000)
Humpday
Big Fan The New Year Parade Treeless Mountain Zero Bridge
ROBERT ALTMAN AWARD
(Given to one film's director, casting director, and its ensemble cast)
A Serious Man
Directors:
Ethan Coen, Joel Coen
Casting Directors:
Ellen Chenoweth, Rachel Tenner
Cast:
Richard Kind, Sari Lennick, Jessica McManus, Michael Stuhlbarg, Aaron Wolff
PIAGET PRODUCERS AWARD
Karen Chien (The Exploding Girl & Santa Mesa)
Larry Fessenden (I Sell the Dead, The House of the Devil) Dia Sokol (Beeswax, Nights and Weekends)
SOMEONE TO WATCH AWARD Tariq Tapa (Zero Bridge)
Kyle Patrick Alvarez (Easier with Practice) Asiel Norton (Redland)
TRUER THAN FICTION AWARD Bill Ross & Turner Ross ("45365")
Natalia Almada (El General) Jessica Oreck (Beetle Queen Conquer Tokyo)
25th Spirit Awards Honorary Chair Ben Stiller announces Best Picture Winner
[youtube]http://www.youtube.com/watch?v=v1neFmzxBHI[/youtube]