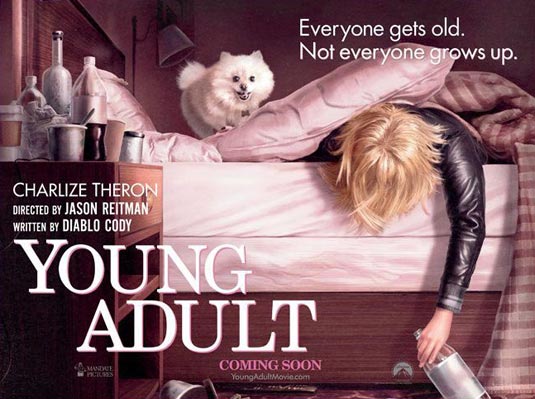 Jason Reitman
's new dark comedy titled
Young Adult
is set to open in limited release December 9th, 2011which is soon, right?
Diablo Cody
is responsible for the story, Reitman directed it while
Charlize Theron
stars as the lead lady in the movie. If you like this team, what are you waiting for? Check out the clips. I must admit that I'm not so interested in this project, but for those of you who already have a wallpaper of Theron with a cute dog and whiskey in her hand (all wrapped in pink color) – here's something to complete your collection. Theron stars Mavis Gary, a writer of teen literature who returns to her small hometown to relive her glory days and attempt to reclaim her happily married high school sweetheart, played by Patrick Wilson. When returning home proves more difficult than she thought, Mavis forms an unusual bond with a former classmate, played by Patton Oswalt, who hasn't quite gotten over high school, either. So what if Cody is responsible for the Young Adult story and Reitman directed it? I still think it sucks!