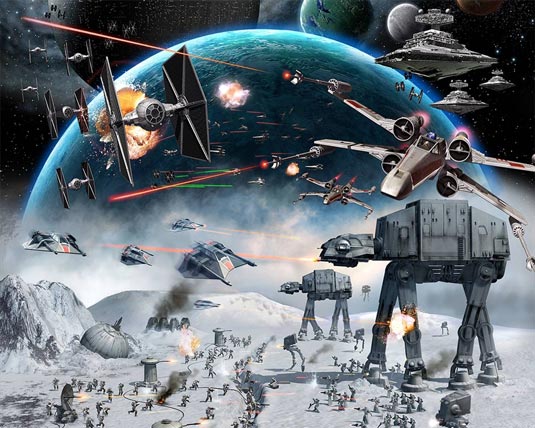 Now this is more or less expected, but still a bit – who am I kidding, A LOT – disappointing news. Namely, I just came across the short announcement on
starwars.com
, saying that the rest of the episodes that should have been released in 3D – have been postponed. I quote:
"Lucasfilm has decided to postpone this fall's scheduled release of Star Wars Episodes II and III in 3D. Given the recent development that we are moving forward with a new Star Wars trilogy, we will now focus 100 percent of our efforts on Star Wars: Episode VII in order to ensure the best possible experience for our fans. We will post further information about our 3D release plans at a later date."
This decision most probably follows the unsatisfying box office performance of Episode I: The Phantom Menace, re-released in 3D in February 2012. It debuted to only $23M domestically, but maybe even more importantly, hardcore fans felt it was yet another dirty cash grab by
George Lucas
. Back in September 2010, Lucasfilm and then-distributor Fox announced that all 6 films in the Star Wars franchise would be converted to 3D. Episode II: Attack Of The Clones (first released on May 16th, 2002) was to hit theaters in 3D on September 20th, 2013, while Episode III: Revenge Of The Sith (first released on May 19th, 2005) was to play in 3D on October 11th, 2013. And that would be, in this new light of events, a welcome recap and a little something to keep us going until the release of Episode VII. I do understand the decision, on one side, but on the other, I wonder if it will have a bit of a negative impact on the fans. Fans don't like something being promised to them and then it being withdrawed, and I have a bad feeling about this – a feeling that we just might end up not seeing any more of the episodes at all, until the said Episode VII release. People at Disney, if you're reading this, do reconsider that decision. Episodes II and III are already converted to 3D, if I remember correctly – you'd need only to bother with marketing, and you don't need to convert the original trilogy at all. Just give them to us as they are, or, for f*ck's sake, in the original release, if you feel so generous. I bet a 100 bucks that way you'd get more people than you can imagine seeing them!