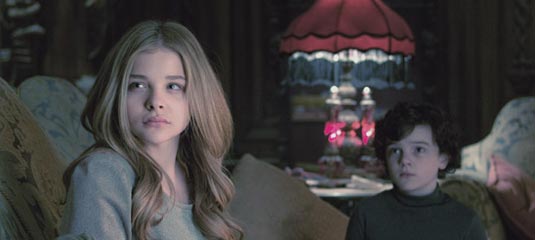 And while we're all waiting for the first
Tim Burton
's
Dark Shadows
trailer, four new images from the movie have hit the web. Ok, at least, something… Now, we have a better look at great
Chloe Moretz
as Carolyn Stoddard, standardly good
Michelle Pfieffer
as Elizabeth Collins Stoddard and
Eva Green
as pretty hot witch Angelique Bouchard.
Nothing without Barnabas, so check out another one image of
Johnny Depp
from the movie. So, Barnabas breaks the heart of a witch Angelique Bouchard (Eva Green) and she dooms him to a fate worse than death: turning him into a vampire. 200 years later, Barnabas is inadvertently freed from his tomb and emerges into the very changed world of 1972. He returns to Collinwood Manor to find that his once-grand estate has fallen into ruin. Dark Shadows which also stars
Helena Bonham Carter, Jackie Earle Haley, Jonny Lee Miller, Bella Heathcote
and
Gulliver McGrath
opens on May 11th, 2012.