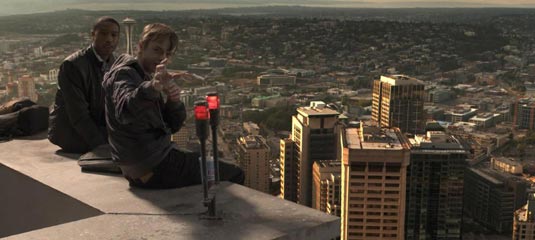 "Boys will be boys" but superheroes – hey, that's a little bit difficult to achieve these days. Still, director Josh Trank is making that possible with his upcoming Chronicle movie, which is set to open on February 3rd, 2012. We're here today to share some new hi-res photos from the whole thing and I definitely hope you'll enjoy.
Chronicle stars Dane DeHaan, Michael B. Jordan and Alex Russell as three high school students who make an incredible discovery, which soon leads them to some strange powers beyond their understanding. As they learn to control their abilities, and use them to their advantage, their lives start to spin out of control, and their darker sides begin to take over.
The rest of the Chronicle cast includes Michael Kelly, Ashley Hinshaw, Anna Wood, Joe Vaz and Matthew Dylan Roberts. At the end, let me once again remind you that it opens in a few days, so make sure you check it out. At least now you have eight more reasons to do that!