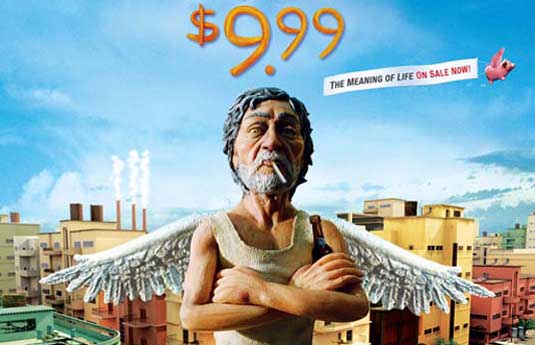 Fourteen features have been submitted for consideration in the Animated Feature Film category for the 81st Academy Awards. One of them is "$9.99" a stop motion animated movie for grown-ups based on the Short Stories of Israeli writer Etgar Keret. Tatia Rosenthal is director and co-writer.

Despite the low budget constraints of the production, the filmmakers and casting agent Nikki Barrett decided to aim high with the casting of the puppet's voices. Sending the script out to a number of internationally acclaimed Australian actors, the filmmakers were gratified by the response.

"Actors just wanted to be part of this project. We ended up with a fantastic cast…our dream list of actors to play the roles," said the producer Emile Sherman. Departing from the more usual practice in the animation industry of recording voice performances in isolation from each other, director Rosenthal preferred to record the actors in the configurations they appeared in the script. "I insisted on getting everybody together in the booth. This became possible because we required them for such a short time. As a first-time director I needed to have that immediate sense of whether a scene was going to work. I didn't want to imagine it. I wanted to hear it." Producer Sherman elaborates: "One of the most interesting aspects of the production was having Anthony LaPaglia and Geoffrey Rush in a studio in LA and a number of the actors in Australia in our Sydney studio, crossing live via the internet, and in this way, recording the voices together." In this way, $9.99's entire voice recordings were made in three days.

Have you ever wondered "What is the meaning of life? Why do we exist?" The answer to this vexing question is now within your reach! You'll find it in a small yet amazing booklet, which will explain, in easy to follow, simple terms your reason for being! The booklet, printed on the finest paper, contains illuminating, exquisite colour pictures, and could be yours for a mere $9.99."

This is the ad that alters the life of the unemployed 28 year old who still lives at home, Dave Peck. In his struggle to share his find with the world, Dave's surreal path crosses with those of his unusual neighbours: an old man and his disgruntled guardian angel, a magician in debt, a bewitching woman who likes her men extra smooth, a broken hearted man who befriends a group of hard partying two inch tall students, and a little boy who sets his piggy bank free. Their stories are woven together, examining the post-modern meaning of hope.

"$9.99" voiced by Geoffrey Rush (The Angel / Homeless Man), Anthony LaPaglia (Jim Peck), Samuel Johnson, Claudia Karvan, Joel Edgerton, Barry Otto, Leanna Walsman, Ben Mendelson, Jamie Katsamatsas and Brian Meagan is set to open on December 12, 2008.