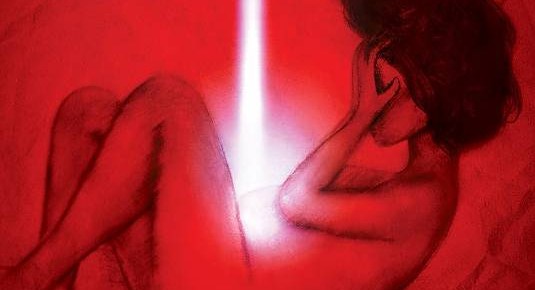 Absence – make sure you remember this title! Directed by Jimmy Loweree, this brand new sci-fi horror thriller is set to hit theaters next month and as you're about to see – it looks awesome! Young mother-to-be, an unborn child and some mysterious circumstances, that's the best recipe for a successful horror flick, hope you agree? Ok then, head inside to check it out… Jimmy Loweree directed the whole thing from a script he co-wrote with Jake Moreno, which revolves around an expectant mother named Liz who wakes to find her nearly-to-term pregnancy has disappeared overnight. Along with her husband and her brother, she travels to the mountains to find out what happened to her unborn baby. [jwplayer mediaid="153715″] Spooky, right? Don't worry, it gets better, here's more details:
When doctors can find no medical explanation for the loss, police treat Liz and her husband Rick as prime suspects in what has now become a missing child case. Only Rick and Liz's brother Evan trust her version of events. To relieve some of Liz's grief, Rick and Evan take her on a vacation to the mountains. But as Evan documents their vacation, unusual patterns arise. Liz still has no real answers for the disappearance of her baby despite his interviews and questions. Evan and Rick are horrified when her condition visibly declines. No one can ignore the fact that something is very wrong with Liz. When the trip spins out of control, they realize that whatever happened with Liz and her baby isn't over. None of them are safe.
Starring Erin Way, Eric Matheny, Ryan Smale and Stephanie Scholz, Absence is set to hit theaters on July 5th, 2013. Click on the poster to enlarge & let us know what you think!