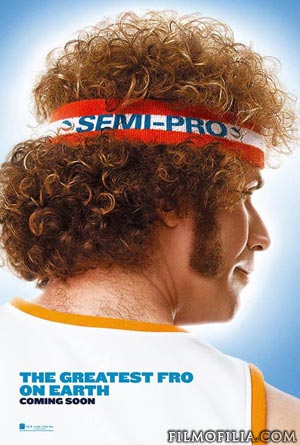 Will Ferrell has this strange ability to make a blockbuster, universally respected comedy, then turn around and make totally mediocre crap, but his career isn't affected by it at all. Last spring he brought the world Blades of Glory, which made way more money than it deserved, and this February it will be Semi-Pro. It's another raunchy comedy about some obscure sport, except this time instead of car racing or ice skating it's semi-professional basketball.
Most of what we've seen for the movie so far is just teasers, but now there's an age-restricted trailer available at this site, which has better security than most bars I've checked. They say they check your name and date of birth against the information on your driver's license, but I haven't checked to see if you can get past 'em. In any case, if you're old enough to buy a lottery ticket, you can check out the trailer and be presented with… a crazy amount of blowjob jokes.
No, seriously. About 80% of the jokes in this trailer revolve around blowjobs, whether it's talking about blowjobs that you get after practice, asking the ref for a blowjob, or just shouting "suck my cock" to your friends. The rest of the jokes pretty much revolve around dicks too, just on their own. I'm not sure if this is some meta-joke, or if that's really the whole content of the movie, but it made me want to see this movie even that much less than I already did.
Judge for yourselves, but until Will Ferrell comes back to his senses and makes something funny that isn't only available at Funny Or Die, I'm sticking to Elf and Green Team.
[flv]http://media2.slashfilm.com/slashfilm/trailers/semiprored.flv[/flv]
The restricted trailer for 'Semi-Pro' staring Will Ferrell and Woody Harrelson.