Movie Photos
AIN'T THEM BODIES SAINTS: Another Look At Rooney Mara & Casey Affleck!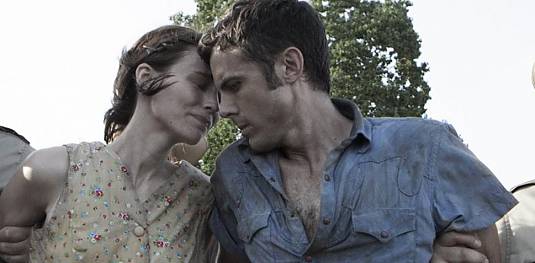 Great new images from David Lowery's upcoming Ain't Them Bodies Saints have arrived, and you already guess – this report is all about Rooney Mara and Casey Affleck (well, to be honest, there's also a pic of Ben Foster as well-meaning sheriff.) Anyway, we must admit that the whole thing definitely looks like a modest but powerful modern western, take a look & let us know what you think!
Written and directed by Lowery, the movie will tell us the story of two young outlaws – Bob, played by Affleck, and Ruth, played by Mara, who are brought down by the law in the hills of Texas. A story of love, motherhood and searching for peace while faced with an unrelenting past is set against the backdrop of 1970's Texas Hill Country, and beside the above mentioned duo, also stars Ben Foster, Nate Parker and Keith Carradine.
In case you've missed the official synopsis:
Bob Muldoon and Ruth Guthrie, an impassioned young outlaw couple on an extended crime spree, are finally apprehended by lawmen after a shootout in the Texas hills. Although Ruth wounds a local officer, Bob takes the blame. But four years later, Bob escapes from prison and sets out to find Ruth and their daughter, born during his incarceration…
At the end of this report, little reminder – Ain't Them Bodies Saints will arrive in theaters on August 16th, 2013. Stay tuned for more western-updates!