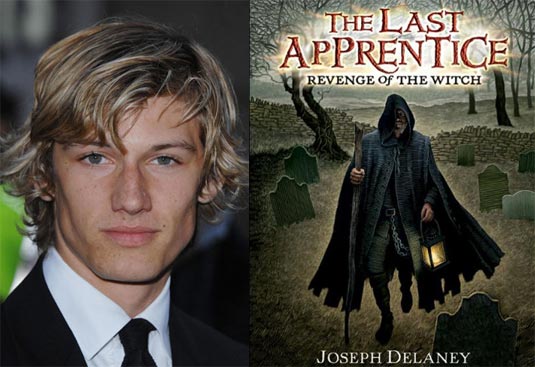 In some of our previous reports
we mentioned
that
Alex Pettyfer
,
I Am Number Four
star, is in talks to take a lead in an adaptation of
Cassandra Clare
's bestselling fantasy series
The Mortal Instruments
. Today, we learned that this young actor has been offered the starring role in
Joseph Delaney
's
The Last Apprentice
series and it looks Pettyfer is totally into that one! According to the latest reports: "talks between Screen Gems and reps for Alex Pettyfer have reached an impasse. Even though he's a top choice of vocal Cassandra Clare fans to play the role of Jace, insiders now say a deal won't be made: as much as Pettyfer likes the 'Instruments' series, he likes 'The Last Apprentice' books even more." Here's a synopsis part of the first novel in the
The Last Apprentice
series,
Revenge of the Witch
: "Twelve-year-old Thomas Ward, as the seventh son of a seventh son, has no inheritance and is bored with farm work, and even though his new job will mean the superstitious villagers will forever shun him, he is eager to go off to adventure with the tall, hooded man he calls the Spook. His mother, a magical person herself, approves, and the Spook's teaching is strict but kind. But when Tom has only learned enough to be able to control their house-boggart, he is tricked by Alice, the young daughter of a witch family, into inadvertently releasing and then killing Mother Malkin, a witch the Spook has imprisoned in a pit. This is no polite wicca-type witch, but a snuffling, slime-trailing, cannibalistic creature reminiscent of Tolkien's nasgils. The story of Tom's escape from the reincarnated witch's hideous revenge is full of horrible details, as Alice helps, and then once again betrays him. This well-crafted novel marks an auspicious start for an exciting and fast series for young teens." Well, until something official comes, let's also mention that the latest rumors also include
Jeff Bridges
and
Jennifer Lawrence
, who are, according to Vulture, being offered the roles of County Spook John Gregory and a suspected witch, presumably Alice Deane. Russian director
Sergey Bodrov
will helm
The Last Apprentice
.