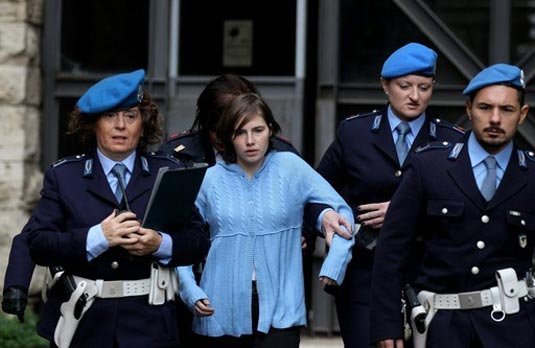 A TV movie on American student
Amanda Knox
, offended of murder in Italy, is going forward despite the indignant reaction from her family and the victim's alike. The murder of
Meredith Kercher
occurred in Perugia, Italy, on 1 November 2007.
Rudy Hermann Guede
, a citizen of Perugia, was convicted of the sexual attack and murder of Kercher and received a reduced sentence of 16 years after an appeal.
Raffaele Sollecito
, an Italian student, and Amanda Knox, an American student who shared a flat with Kercher, have been condemned of sexual assault and murder and faced 26 year. Both Knox, one of three people convicted of killing her roommate Meredith Kercher, and Kercher's family oppose the U.S. movie and a British one in progress, ANSA reports.
Amanda Knox: Murder on Trial in Italy
is to be broadcast on Lifetime Feb. 21 with
Hayden Panettiere
in the title role. Knox, who has many adherents in America and is appealing her 26-year sentence, refused to meet Panettiere to help her with the role. The film was shot in Knox's hometown of Seattle, Rome and Perugia, where Kercher, a British exchange student, was found with her throat cut Nov. 2, 2007, supposedly after a drunken bang game. [youtube]http://www.youtube.com/watch?v=u25qlDtqZMQ[/youtube] Murder on Trial in Italy, the movie about Amanda Knox (Hayden Panettiere), accused of murdering her college roommate Meredith Kercher (
Amanda Fernando Stevens
) in 2007 with her boyfriend Raffaele Sollecito (
Paolo Romio
) and associate
Rudy Guede
(
Djirbi Kebe
). The movie set the question of whether Knox actually committed the crime or was herself a victim.Academy Award winning actress
Marcia Gay Harden
depicts
Edda Mellas
, Amanda Knox's mother. An hour-long documentary will be added to the movie. See the pics below.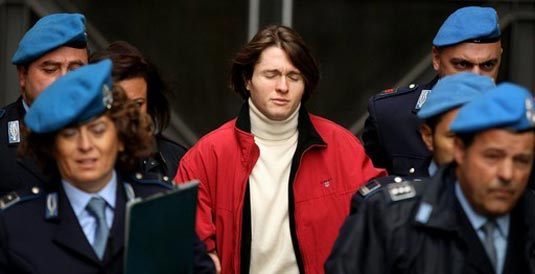 Raffaele Sollecito Lead Away
Hayden Panetierre, left, and Marcia Gay Harden, co-stars of the Lifetime Television movie "The Amanda Knox Story," take part in a panel discussion during the A&E Networks Television Critics Association winter press tour in Pasadena, Calif., Friday, Jan. 7, 2011. (AP Photo/Chris Pizzello)