Movie News
AMC Sets THE KILLING Season 3 Premiere Date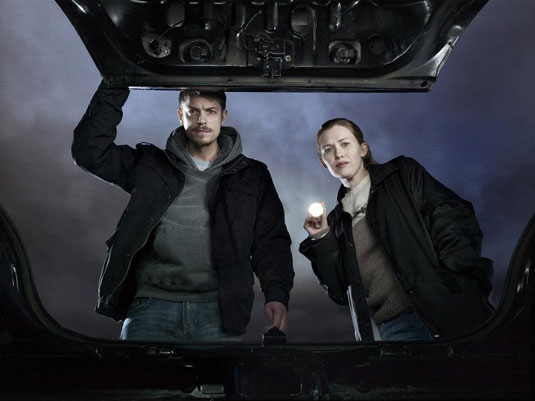 Much has already been written about the strange life and near-death (undeath?) of The Killing. After a disappointingly abrupt drop in ratings during its second season, the show was cancelled by AMC – only to have its showrunners begin shopping around for a new home for the critically-acclaimed crime drama.
After much speculation as to the show's fate, The Killing eventually earned an order of ten new episodes from AMC, thanks in part to a co-financing deal with Netflix. The series' cast and crew apparently wasted no time in getting these episodes into production, as The Killing's season 3 premiere is only a little over two months away.
The revival of The Killing now has a definitive premiere date and, in addition, we now have an idea of where the series will head after solving the murder case that consumed its first two seasons.
The new season will apparently pick up a year after the end of season 2. Shaken by the details of the Rosie Larsen case, Sarah Linden (Mireille Enos) has retired from police work. When her ex-partner Stephen Holder (Joel Kinnaman) contacts her for information regarding a grisly series of murders, Linden finds herself being drawn back into the life of a homicide detective.
Since the end of The Killing's last aired season, main stars Enos and Kinnaman have gone on to higher-profile roles in World War Z and RoboCop, respectively. Nonetheless, they are some of the few actors returning for The Killing's third season. Befitting a new era and new cases, the show has added new cast members in the form of Elias Koteas (Let Me In), Peter Sarsgaard (Blue Jasmine), and Amy Seimetz (Upstream Color).
This new premiere date means that season 3 of The Killing will (at least partially) run alongside the return of Breaking Bad and new series Low Winter Sun – meaning that the summer of 2013 will officially be crime drama season for AMC.
Given the huge decrease of public interest in The Killing's second season, series creator Veena Sud (Cold Case) should better make a REALLY strong case for the show's return in June. With any luck, The Killing may just start attracting audiences back to its grim, blood-spattered version of Seattle – especially since the new case will be solved in a single season.
Season 3 of The Killing will premiere on AMC on June 2nd, 2013.