Movie News
Amy Adams and Paul Giamatti to Join Rock of Ages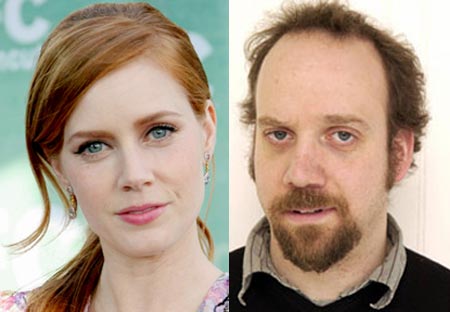 We already had a little chat about the upcoming Warner Bros'
Rock Of Ages
adaptation of the Broadway musical for New Line Cinema, so by now you know that
Tom Cruise, Julianne Hough, Mary J. Blige
and
Alec Baldwin
are all set to star in it. But it looks that's not all, because, according to the latest reports,
Paul Giamatti
and
Amy Adams
are in talks to join the cast as well. Let us remind you that
Chris D'Arienzo
, the musical's creator, wrote the screen adaptation with
Adam Shankman
and
Justin Theroux
doing a polish. Adam Shankman will also direct and choreograph the film, while Carl Levin, Matthew Weaver, Scott Prisand, Tobey Maguire and Jennifer Gibgot will produce. Rock of Ages is set in the 1980s and filled with rock music from that decade (when we say that we mean classic '80s tunes by Styx, REO Speedwagon, Journey, Pat Benatar, Twisted Sister, Poison and Whitesnake). Tom Cruise will play Stacee Jaxx, character decribed as "the arrogant and charming star at the top of his career." Julianne Hough stars as the leading female role, Sherrie, character that Shankman described this way: "she's the lead, she's the girl who comes to Los Angeles looking for the dream. I asked her if she wanted to be in a movie with Tom Cruise and she wanted to not get on the plane so she could celebrate. Her audition was surreal – maybe the best I've ever seen." Mary J. Blige will play character named Justice, while Boldwin is set to star as Dennis. Paul Giamatti was cast as the manager of Stacee Jax and his rock band, and Amy Adams is set to play "a journalist who plans to write an expose on the hard-partying rock star but ends up having a fling with him instead after they do a duet of Foreigner's I Want to Know What Love Is." Filming on
Rock Of Ages
is due to begin in May and the movie is set to be released in June 15th, 2012.