Movie News
Amy Adams and Viggo Mortensen Join On The Road
Amy Adams
and
Viggo Mortensen
have joined the cast of
Walter Salles
' film adaptation of
Jack Kerouac
's
On The Road
.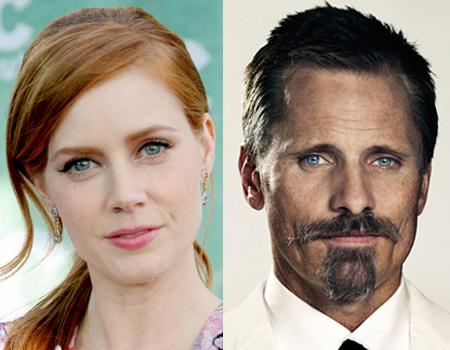 The movie already includes some great cast:
Sam Riley, Kirsten Dunst, Kristen Stewart
and
Garrett Hedlund
. Sounds very good, we must admit, especially when we have a plot like this: "Fans of Kerouac get the whole beautiful, groovy deal with this new recording of the radically hip novel that many consider the heart of the Beat movement. Poetic, open and raw, Kerouac's prose lays out a cross-country adventure as experienced by Sal Paradise, an autobiographical character. A writer holed up in a room at his aunt's house, Paradise gets inspired by Dean Moriarty (a character based on Kerouac's friend Neal Cassady) to hit the road and see America. From the moment he gets on the seven train out of New York City, he takes the reader through the highs and lows of hitchhiking, bonding with fellow explorers and opting for beer before food. First published in 1957, Kerouac's perennially hot story continues to express the restless energy and desire for freedom that makes people rush out to see the world. The tale is only improved by Dillon's well-paced, articulate reading as he voices the flow of images and graveled reality of Paradise's search for the edge."
Jose Rivera
has scripted the adaptation for a movie that stars Garrett Hedlund as Dean Moriarty, Sam Riley as Sal Paradise, Kristen Stewart as Mary Lou (the young first wife of Dean Moriarty), while Kirsten Dunst stars as Camille, (based on Carolyn Robinson, who became his second wife). Viggo Mortensen will assume the role of Old Bull Lee, while Amy Adams will play his junkie wife, Jane. Stay tuned for more updates on this one!