Movie News
Amy Poehler Joins TURKEYS, Release Date Moved Up An Entire Year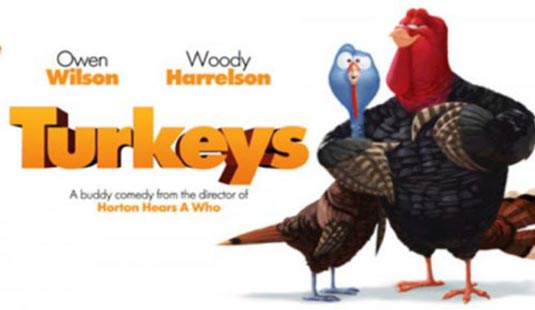 A holiday just wouldn't be a holiday without a children's animated movie to coincide with it. If anyone was already planning their 2014 Thanksgiving around the release of
Jimmy Hayward
's
Turkeys
, you're out of luck. According to
The Wrap
, Relativity Media will release the film over a year earlier than its original November 14th, 2014 date, due to well-received early footage. Instead, the film is scheduled for the November 1st, 2013 release spot. As if that weren't enough to look forward to,
Amy Poehler
has just signed the deal to lend her voice talents to the star-studded cast. Poehler will be the female lead opposite
Owen Wilson
and
Woody Harrelson
, joined by a supporting cast that includes
Colm Meaney
,
Keith David
,
Dan Fogler
,
Lesley Nicol
and
George Takei
(and with Takei involved, you can count on social media getting some sneak-peeks behind the scenes). Turkeys director Jimmy Hayward was responsible for the wildly different Horton Hears a Who! and Jonah Hex, so it isn't exactly obvious how well-equipped for the rush he'll be. Studio execs spent part of the week considering all of the obstacles this shift will present in finishing the film, much less the promotion and merchandising. Project development on the movie actually began all the way back in June 2009, and actual production started in January 2011. The story focuses on two rebellious turkeys who use a time machine to travel back to the first Thanksgiving, where they attempt to eradicate turkeys from the traditional holiday meal. The script was written by
Craig Mazin
(The Hangover Part II, Identity Thief),
John J. Strauss
(There's Something About Mary, The Wild), and
David I. Stern
(Open Season 2, Open Season 3). I hope they will get it done in time, in spite of just added a major character voice.