Movie News
Andrew Stanton confirms Pixar's 'John Carter'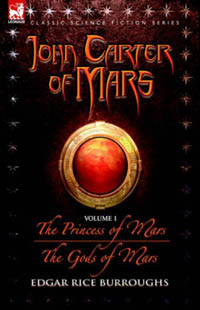 The Pixar Blog
confirmed directly from
Wall-E
director
Andrew Stanton
himself that he is indeed currently writing the script for the upcoming
Edgar Rice Burroughs
' science fiction book
John Carter Of Mar
'. Published in novel form in 1917,
A Princess Of Mars
(the first novel in series) focused on Civil War veteran John Carter who finds himself transported to Mars. The book is regarded as a 20th century pulp classic.
John Carter is a red blooded American civil war hero and fighting man from Virginia. A strange incident whilst prospecting in Apache country propels him to Mars where he immediately encounters the enormous war-like green men of Mars and the planets equally alien landscapes, animals and technology. Soon Carter falls in with the red men (and their beautiful red women, including Dejah Thoris, Princess of Helium, in particular) and his non-stop adventures begin.
Stanton, a
Pixar
veteran also wrote the screenplays for
Toy Story
,
A Bug's Life
,
Toy Story 2
,
Monsters Inc
,
Finding Nemo
, and
Wall-E
. It is unclear whether John Carter Of Mars will be an entirely CGI film in line with Pixar's previous movies, or a mixture of animation and live-action footage.