Movie News
Angelina Jolie in Unforgiven Written by Christopher McQuarrie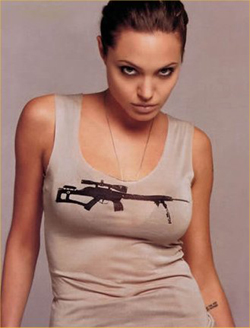 She is currently busy with her upcoming Bosnian war love drama (that
we already reported
about), and she already has a new project waiting for her! Damn, it's nice to be
Angelina Jolie
in a Hollywood nowadays!
Usual Suspects
scribe
Christopher McQuarrie
is currently working on a draft of a remake of
Unforgiven
, with Angelina Jolie in mind for the lead role in a story that follows: "…Ruth, who has spent half of her life imprisoned, and now faces the daunting prospect of rebuilding her life whilst being irresistibly drawn to the place that haunts her, Upper Hanging Stones Farm. In spite of trying to focus on the future and her new boyfriend Brad, Ruth is unable to forget her past and the sister, Katie, who she was forced to leave behind. Outraged to hear that the woman who killed their father has been released, Kieran and Steve Whelan are eager to seek revenge. Believing that life should mean life, the two brothers decide to take the law into their own hands. But just how far are they capable of going? Can they really do to her what she did to their father? As the details about Ruth's past become known, maintaining a job, friendship and a relationship become increasingly arduous. Ruth soon realises that the ramifications of her release spread further than she could have imagined, with far reaching implications for everyone involved." So, that's how the remake of the 2009 British miniseries should look like, not bad at this moment, it actually sounds quite interesting. And with Jolie on board, even better. Still, she won't sign on until she sees a finished script, so, nothing is official yet! Let us just remind you that McQuarrie also worked on the script for the upcoming Jolie/
Johnny Depp
,
The Tourist
, which opens December 10th, 2010. One reason more for us to pay attention on
Unforgiven
, so make sure you stay tuned!