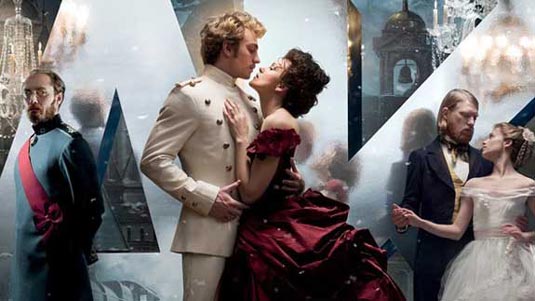 Anna Karenina
has released a first trailer online, in which director
Joe Wright
adapts Leo Tolstoy's classic tome about late 19th century Russian society.
Keira Knightley
stars as Anna, an upper class socialite married to Count Karenin (
Jude Law
), a senior statesman some 20 years her senior. Their marriage is steady if unremarkable, until Anna's head is turned by the affluent Count Vronsky (
Aaron Johnson
). As the pair of them begin a torrid affair, Anna's world begins to unravel. Since the adultery is a bit being frowned upon among the society, she will become a pariah, in a sense.But is this a price worth paying for what appears to be true love? We'll see what the filmmakers thought about that upon its release. Meanwhile, take a look at the trailer: The trailer does feel very theatrical. Of course, the true theatricality of this movie is actually more literal than that. Wright filmed Anna Karenina at and near one single location: a theater built from scratch at London's Shepperton Studios. That's the set piece we see frequently in this trailer, and it will be interesting to see how that one location works in the movie as a whole and will the visual style hold up until the end of the two-hour movie. This is Knightly and Wright's third film together, having also teamed up for
Pride & Prejudice
and
Atonement
. Appropriately, there's something that feels more mature about this project than their previous two. Though she's playing the movie's titular character, Knightley isn't the only reason I'm excited about this film, since she is well within her comfort zone with this kind of material. Aaron Johnson plays her lover, cavalry officer Vronsky, and I'm thrilled to see him in a period piece (and speaking in his native British accent), although he seems a little callow as Anna's lover, but the trailer gives him little to do but flounce imperiously, so I may yet be proved wrong on that one. And they look so nice on the poster together.
Jude Law takes a more subdued turn, but it will be interesting to see him aged-up as the stiff but decent Count Karenin, and we're looking forward to seeing him challenge Knightley on the big screen. The film also stars
Kelly Macdonald
,
Matthew Macfadyen
,
Domhnall Gleeson
,
Emily Watson
,
Alicia Vikander
,
Olivia Williams
and
Ruth Wilson
. Anna Karenina opens on November 16th, 2012.