Movie Photos
Anne Hathaway as Catwoman; Hi-Res Piece of Promo Art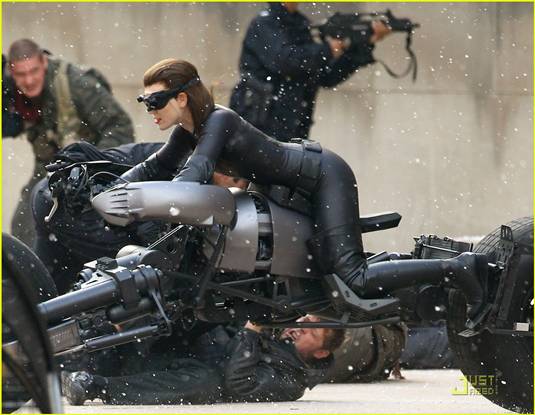 Check out the following piece of promotional art from
The Dark Knight Rises
features a hi-res look at Anne Hathaway as Catwoman in the film, giving you a detailed look at her costume. Well, it's clear that it will be used for upcoming marketing material. The epic conclusion to
Christopher Nolan
's Batman trilogyThe Dark Knight Rises hits theaters on July 20th, 2012.
Christian Bale
again plays the dual role of Bruce Wayne/Batman; 
Anne Hathaway
also star as Selina Kyle;
Tom Hardy
, as Bane; Oscar winner
Marion Cotillard
, as Miranda Tate;
Joseph Gordon-Levitt
, as John Blake; Oscar winner
Michael Caine
plays Alfred;
Gary Oldman
is Commissioner Gordon; and Oscar winner
Morgan
Freeman
reprises the role of Lucius Fox. Hit the jump to check out Hatahaway in Halloween costume.
Warner Bros. kindly asked us to remove the image.