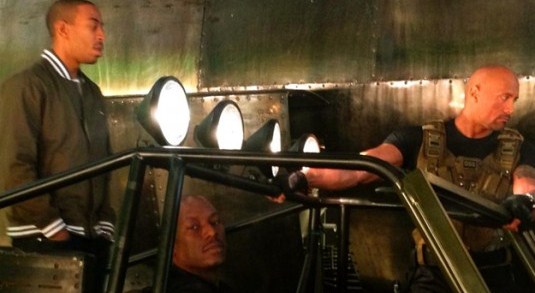 Tyrese Gibson
, thank you for this fast and pretty furious update, man! Hey guys, you already see our title which means we're here to share another cool set photo from the upcoming
Fast & Furious 6
 movie, as well as one short video from the set! Nothing spectacular about it, except Gibson's official promise that this
film is going to be huuuuugeeee! 
We're more than ready for
Justin Lin
's action thriller which opens next spring. And we already know that the cast of
Fast Five
is back for another heist, which means that, beside Gibson, this movie also stars
Vin Diesel
,
Dwayne Johnson
,
Ludacris
,
Paul Walker
,
Jordana Brewster
,
Michelle Rodriguez
,
Joe Taslim
, and
Luke Evans
. Unfortunately, at this moment still nothing official on the movie plot, so you'll have to satisfy with this description:
It kind of takes up from where we left off Fast and Furious 5, and there is a whole new batch of surprises. The crew that is in Fast 5, we are going up against a rival crew, so it's almost like Justice League up against the Legion of Doom.
Yes, that's exactly what Ludacris had to say about the whole thing in his interview with CNN last month. Anyway, at the end I will once again remind you that
Fast & Furious 6
 opens on May 24th, 2013, and in the meanwhile – feel free to let us know what you think about this project so far!