Movie News
Ascencio and Gelman Join Hunger Games; Script Changes; Interview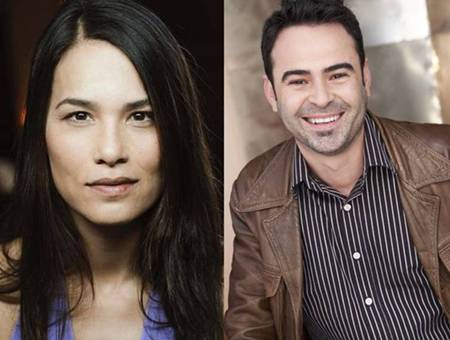 The names Nelson Ascencio, and Kimiko Gelman have joined the ever-expanding cast of The Hunger Games in rather minor, yet still significant roles.
Lionsgate Friday tweeted a change to the script credits saying,
The current draft of The Hunger Games script was not written by Billy Ray. It is a collaboration between Gary Ross and Suzanne Collins."
Jennifer Lawrence on today's phone talk explains some impressions at The Hunger Games shooting.
Previously, Toby Jones and Amber Chaney were set to portray Claudius Templesmith, the legendary announcer in the arenas of the Games, and Avox Girl, a servant for Katniss whose tongue was cut out for committing recognized crimes against the Capitol.
Ascencio and Gelman will be embodying Flavius, the purple-lipsticked hair stylist, a part of Cinna's prep team for Katniss, and Venia, gold-forehead-tattoed stylist, another member of Cinna's prep team. Gelman is TV actress with her most notable role on the semi-cult hit Rags to Riches. Ascencio is a comedic actor best known for his writing and various characters on MadTV (also recently appeared in the Seth Rogen's film Paul).
As for script, previous Billy Ray's draft won't be used at all. Ross and Collins were reworking the script and their collaboration resulted in a script they were both (and Lionsgate) quite pleased with.
And last, Jennifer Lawrence who's playing the lead role of Katniss Everdeen today revealed Washington Post different treatment between X-Men and The Hunger Games:
I had to go through a different regimen. For "X-Men" I was lifting a lot of weights. I actually lost a lot of mass when I quit "X-Men" because I was working out so much and very muscular and strong. With "Hunger Games," I need to be smaller and thinner. I do need to be as strong, but my character's younger. Strong arms are something that comes with age, so that had to be taken down a little bit."
Asked if she feels prepared for all the additional attention that playing Katniss will bring, Lwrence answered:
I don't think there really is a way to prepare, I just think there is a way to accept it. It's kind of scary, to be honest. I love the movie and I love the books, and I didn't want to just turn away because I was scared."
On if she read the book before she signed on:
Yeah, and I was very skeptical about them being made into a movie, as everybody said. When you're a big fan of the books, you're always worried about them becoming a movie because it's usually a disappointment. But I met with Gary Ross, the director, and I loved every word that came out of his mouth. And I knew that he was the only one who could do it. And then finding out that Suzanne Collins was also writing the screenplay — everything was just so comforting. And I was just so excited about all of it."
Hunger Games is slated for a March 23, 2012 release.

The Hunger Games, Film Roster