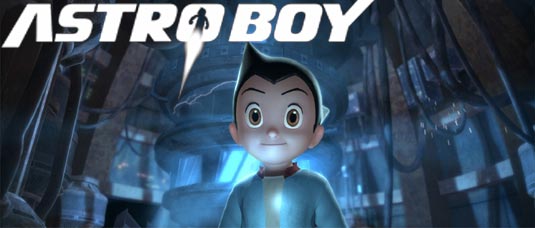 Today, we have a first teaser trailer from the upcoming adaptation of Osamu Tezuka's classic manga "Astro Boy."

Set in futuristic Metro City, Astro Boy is about a young robot with incredible powers. Powered by pure positive "blue" energy, Astro Boy (Freddie Highmore) is endowed with super strength, x-ray vision, unbelievable speed and the ability to fly-not to mention the purest spirit on the planet. Embarking on a journey across the planet to discover his powers, Astro Boy encounters a netherworld of robot gladiators and other comic characters, and learns the joys and emotions of being human. When he learns his friends and family are in danger, Astro Boy marshals all his awesome super powers and returns to Metro City, in a valiant effort to save everything he cares about and to embrace his place in the world.

Astro Boy's all-star cast features the voices of Academy Award-winning actor Nicolas Cage, Donald Sutherland, Nathan Lane, Bill Nighy and Eugene Levy with Freddie Highmore in the title role. David Bowers is directing the movie from a screenplay written by Timothy Harris with Maryann Garger producing. "Astro Boy" is scheduled to hit theaters on October 23rd, 2009.