Movie Posters
'Bangkok Dangerous' New International Movie Trailer & Movie Poster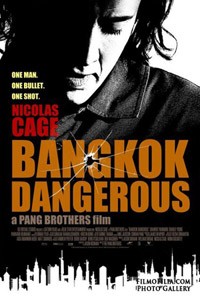 Today, we have the international trailer and movie poster for the upcoming Nicolas Cage flick, entitled "Bangkok Dangerous." Unfortunately, it is in Spanish, but you can still check out all the action as Cage continues sporting his ridiculous "Next" haircut.
The film also goes by the name "Time to Kill," and is about a hitman (Nicolas Cage) in Bangkok, who while pulling off a series of jobs falls for a local woman and bonds with his errand boy.
This is the second American film directed by the Pang brothers, whose "The Messengers" was release earlier this year. "Bangkok Dangerous" is actually a remake of the brothers' own 1999 film by the same name. At this point, the remake does not carry a release date.
Watch 'Bangkok Dangerous' movie trailer after jump