Movie News
Basinger, Graham, O'Hara and Patric Look after Their Fortune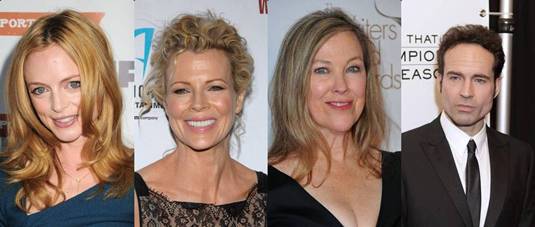 Ex-football player Clark Johnson aka 'Slappy' Jackson, who decided he had "better try and get some sort of job" also decided to screen the dark indie comedy Fortune. Variety reported Heather Graham, Kim Basinger, Catherine O'Hara and Jason Patric are in final talks to star in the comedy of the same name.
Fortune script, written by creative team of Nancy Fichman and Jennifer Hoppe, circles around a snitcher who began working to save his life after a roadkill; and two sisters, having no money, no food, and nowhere to live, reluctantly team up to track down a gangster darling for bounty. They all land in Las Vegas, where violence and destinies run over.
Ex-Bond girl Basinger was most recently played Zac Efron's mother in the 2010 film Charlie St. Cloud.
Heather Graham played the stripper Jade in The Hangover, also filmed at locations in and around Las Vegas, and is starring in the family comedy Judy Moody and Not the Bummer Summer.
Actress and comedienne O'Hara will next appear in Disney's Frankenweenie and Patric was last seen in The Losers.
Johnson's  directing credits include the big-screen releases The Sentinel (2006) and S.W.A.T. (2003). Johnson also helmed the pilot episode of the FX drama Lights Out. The series focuses on a retired heavyweight boxing champion.
Presumably, it'll be tough to handle this Fortune. Check out the trailer below and follow us on Facebook.
[youtube]http://www.youtube.com/watch?v=bpVAyZAse70[/youtube]
FX Network's Lights Out promo
Source: Variety