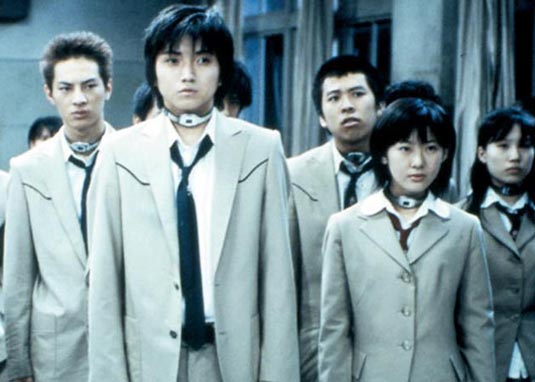 Hollywood has been trying to do an Americanized remake of Japan's hit film
Battle Royale
for years, and still nothing so far. Producers Neal Moritz (The Fast and the Furious) and Roy Lee (the upcoming Lego movie) have been trying to get it made for about six years, unsuccessfully. The movie is basically a much more violent and hardcore version of
The Hunger Games
, only it was made long before The Hunger Games existed. The film follows a group of teenagers that live in a totalitarian state and have to fight for survival in a government-imposed competition. Now it looks like Battle Royale could end up being a TV series on The CW, which doesn't give me much comfidence. A series like this belongs on HBO or Starz. It makes no sense to me that Battle Royale could end up being developed there. According to the LA Times:
"In the last few weeks, the CW has had talks with the project's Hollywood representatives about the possibility of turning the property into an English-language show, said someone close to the project. The talks were preliminary, but if a deal could be reached, the network would acquire rights to Koushun Takami's underlying novel, then unpack and expand on it for an hourlong dramatic series."
Thankfully, as of right now no deal is in place. The article points out that one main thing that the network will need is the approval of Takami, "which according to Japanese law must be secured before any remake moves forward." So if Takami doesn't like the plan for the series they want to do then he can always turn them down. Fingers crossed. For those of you wondering why we won't see a Battle Royal film anytime soon, you can blame The Hunger Games. New Line didn't want people thinking it was a copycat film, even though that's exactly what The Hunger Games is. I don't particularly like films of such type, but still I'd rather see a big screen remake of this movie than a probably watered down CW TV adaptation. So, what do you think about this?