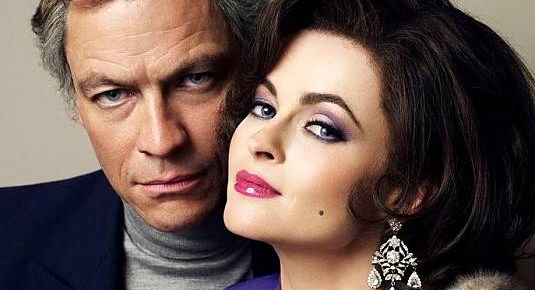 The BBC just can't compete with HBO's deep pockets (Behind the Candelabra), but they still can get some great stars on the screen.
Hot on the heels of Liz & Dick – Lifetime's sentimental take on the love story of Hollywood's tabloid darlings of the 60s, Elizabeth Taylor and Richard Burton – BBC Four have released the first trailer for their TV biopic which stars Helena Bonham Carter (The Lone Ranger, Les Miserables) and Dominic West (The Wire, The Hour), penned by William Ivory (Made In Dagenham) and directed by Richard Laxton (Grow Your Own).
Though the titles are similar, Burton & Taylor has Liz & Dick beat, right out of the gate. Cooper and Carter seem like an interesting pairing, despite the fact that Carter is a curious pick for Taylor.
Check out the first trailer for the 90-minute drama that rather focus itself exclusively on the couples final professional collaboration: a 1983 appearance on stage in the Broadway production of Noel Coward's Private Lives.
Burton & Taylor will be screened on TV later this year.