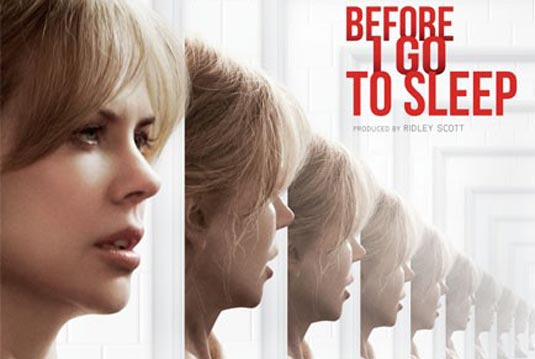 Today a new poster from 
Before I Go to Sleep
, an adaptation of British author Steve Watson's debut novel of the same name,  has been released. The film is the story about a young woman (Nicole Kidman) who, after a night of partying, wakes up to discover that she has aged beyond recognition. Here's the synopsis for the film:
Christine wakes in a strange bed beside a man she does not recognise. In the bathroom she finds a photograph of him taped to the mirror, and beneath it the words 'Your husband'. Each day, Christine wakes knowing nothing of her life. Each night, her mind erases the day. But before she goes to sleep, she will recover fragments from her past, flashbacks to the accident that damaged her, and then—mercifully—she will forget. Chilling, exquisitely crafted and compulsively readable, S. J. Watson's debut novelBefore I Go to Sleep is a psychological thriller of the highest order. It asks primary questions. Are there things best not remembered? Who are we if we do not know our own history? How do we love without memory?
Before I Go to Sleep
is directed by
Rowan Joffe
and produced by
Ridley Scott
. No release date is set yet but we'll keep you up to date with all the latest developments.