Movie News
Ben Kingsley Set to Star in Sacha Baron Cohen's The Dictator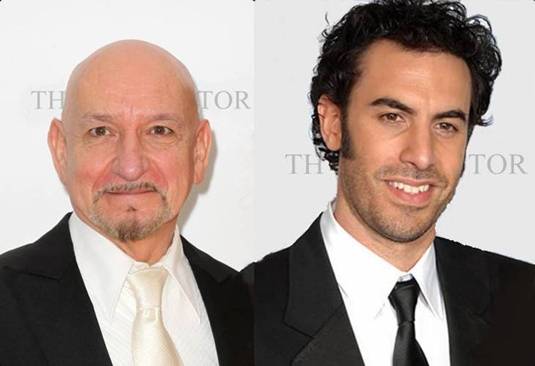 Ben Kingsley
and
Sacha Baron Cohen
, acquaintances from the mystery film
Hugo Cabret
(that will be released just in time for Thanksgiving), this time co-star in a new Paramount comedy titled
The Dictator
. Cohen's longtime collaborator
Larry Charles
, director of both,
Borat
and
Bruno
, will direct from a script Cohen co-wrote with fabulous
Seinfeld
penners
Alec Berg, Jeff Schaffer
and
Dave Mandel
. The story follows a heroic dictator who risks his life to ensure that democracy never comes to the country he lovingly tyrannizes. It was said previously that Cohen's main character has been inspired by deposed Iraqi President Saddam Hussein, condemned for its systematic, widespread and extremely grave violations of human rights. But right now, that is no longer mentioned. Cohen will play both goats' keeper and foreign ruler who during a visit to America turns corner on his career. Kingsley will co-star playing one of two Middle Eastern characters that appears in the film, probably with
Jason Mantzoukas
(
The League
), who's in talks to play the other role.
Anna Faris, Kristen Wiig
and
Gillian Jacobs
(
Community
) are in contention for a female lead as a worker from supermarket, a role that reportedly requires strong improvisational skills. Cohen will also co-produce with
Scott Rudin
and abovementioned Seinfeld's team. Kingsley, who lately starred alongside
Jake Gyllenhaal
in
Prince of Persia: The Sands of Time
, will be next seen as
Papa Georges
in aforementioned Hugo Cabret, the feature that rejoin the Oscar-winning actor with his
Shutter Island
veteran-helmer
Martin Scorsese
. The Dictator is to begin production next month in New York and Morocco, and planed May 16th, 2012 release date. Follow us on
Twitter
or
Facebook
on the day of the Royal Wedding.