Movie News
Ben Whishaw and Hugo Weaving Taking on Major Roles in Cloud Atlas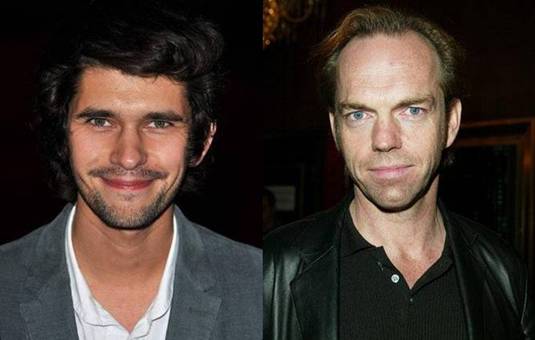 Cloud Atlas's six novella structure has been described as nesting in a Matryoshka doll fashion, a description perhaps imprecise, as the plots, themes, and especially voice and setting vary greatly. Well, the Wachowskis are collaborating with writer Tom Tykwer (Run Lola Run helmer ) to adapt Warner Bros./DreamWorks's Cloud Atlas to a movie.
Furthermore, the Wachowski siblings' favorite Hugo Weaving, Nigerian born who last month was attached to the film, is now officially signed on. Moreover, Bright Star lead Ben Whishaw, who made his big-screen debut as the star of Perfume: The Story of a Murderer (another Twyker's directing success) is also locked in to the project.
Previously, Tom Hanks was locked down and now the Oscar-winner Halle Berry has also firmed up her role. Ian McKellen, Natalie Portman and James McAvoy were originally connected to the film at the same time as Hanks and Berry but, probably, they've all dropped out. What a bunch of stars!
However, Cloud Atlas: A Novel is a book by British author David Mitchell.The novel consists of six nested stories that take us from the isolated South Pacific in the nineteenth century to a distant, post-apocalyptic future.
There's no word yet on who the stars will play, but the most exciting part of THR's story is that all actors will tackle multiple roles on the project.
The Cloud Atlas project's being shopped around Cannes and the Wachowskis aim to achieve it with a budget of around $100-$140 million and Warner Bros will release the film sometime in 2012.
No doubt, this feature will be attractive enough for such a major thesps who want to show their range.
Take a look at trailer for Perfume, the awesome movie that Tykwer and talented Whishaw firstly met and started to collaborate.
LATEST UPDATE: Susan Sarandon and Jim Broadbent are reportedly in advanced negotiations to join a slew of thesps.
[youtube]http://www.youtube.com/watch?v=6NQsCG1NwYg[/youtube]
Perfume – The Story of a Murderer (Das Parfum) Trailer