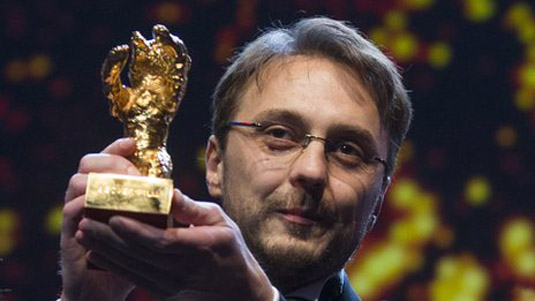 Romanian director
Calin Peter Netzer
won the
Berlin International Film Festiva
l's coveted Golden Bear for best motion picture with
Child's Pose
, which he also wrote and produced. The film, about a mother trying to keep her son out of jail, was also an audience favorite at the Berlinale. Other big winners include the American
David Gordon Green
, who won the Silver Bear for best director with his buddy picture
Prince Avalanche
. The only comedy among the festival's 19 contenders, stars
Paul Rudd
and
Emile Hirsch
as roadway workers in Texas at crossroads in their lives.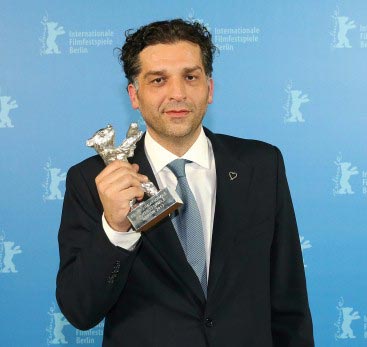 JURY GRAND PRIX (Silver Bear), Epizoda u životu berača željeza (An Episode in the Life of an Iron Picker) by Danis Tanović
Bosnian director
Danis Tanovic
's entry,
An Episode in the Life of an Iron Picker
, was made with just 17,000 euros ($22,750). Not a bad investment for taking home the Jury Grand Prize with the near-documentary about a Romany family who live by salvaging metal. The film's male lead,
Nazif Mujic
, won the Silver Bear for best actor. "I'm not an actor," Mujic, who says that he still has no regular job and collects scrap metal – as he did at the time the drama played out. "I simply played my own story. I played myself in my family. I don't know what I should say."
Paulina Garcia
won the best actress Silver Bear for her role in
Gloria
, a Chilean and Spanish co-prodution about a 58-year-old woman during the Pinochet dictatorship. Iran's
Jafar Panahi
for
Parde
(
Closed Curtain
), a movie he co-directed with
Kamboyiza Partovi
despite the fact that he is banned from making films, picked up the Silver Bear for best screenplay at this year's Berlin Film festival. He is under house arrest and under a 20-year ban on making new films, writing screenplays, meeting journalists and leaving the country.
Here's the full list of winners:
Golden Bear:
"Child's Pose" by Calin Peter Netzer (Romania)
Silver Bear – The Jury Grand Prize:
"An Episode in the Life of an Iron Picker" by Danis Tanovic (Bosnia and Herzeogvina/France/Slovenia)
Silver Bear – Best Director:
David Gordon Green, "Prince Avalanche" (USA)
Silver Bear – Best Actress:
Paulina Garcia in "Gloria" (Chile/Spain)
Silver Bear – Best Actor:
Nazif Mujic in "An Episode in the Life of an Iron Picker" (Bosnia and Herzeogvina/France/Slovenia)
Silver Bear – Best Screenplay:
"Pardé (Closed Curtain)," by Jafar Panahi (Iran)
Silver Bear – Artistic Contribution:
Aziz Zahmbakyjev, cinematographer of "Harmony Lessons" (Kazakhstan / Germany / France)
Alfred Bauer Prize:
Denis Côté, "Vic and Flow Saw a Bear" (Canada)
Best First Feature Award:
"The Rocket" by Kim Mordaunt (Australia)
Special Mention:
"Layla Fourie" by (Germany/South Africa/France/The Netherlands)
Special Mention:
"Promised Land" by Gus Van Sant (U.S.)
Golden Bear for Best Short Film:
"Fugue" by Jean-Bernard Marlin (France)
Silver Bear for Best Short Film:
"remains quiet" by Stefan Kriekhaus (Germany)
DAAD Short Film Award:
"Ashura" by Köken Ergun (Turkey/Germany)
Luminita Gheorghiu in Poziţia Copilului (Child's Pose)