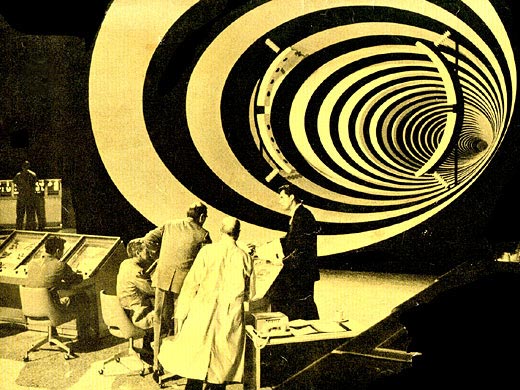 A non-technical approach to the time travel phenomenon had appeared in a number of earlier stories such as in ancient Hindu mythology, in "Mahabharatha" story of the King Revaita, then in "Urashima Tarō", an early Japanese tale and, for example, in "Memoirs of the Twentieth Century" (1733) by Samuel Madden. The time travel motive was developed with the same passion throughout the seventh art production and still remains popular. Even the upcoming comedy Get Back, directed by Mark Waters is also the latest in a long track of time travel movies, extending back from at least the 1940s into presumably the distant future. We want to highlight some of them, the rest you will find by clicking here.
1. Back to the Future — Perhaps the best time travel movie of them all is Robert Zemeckis' 1985 comedy about an weird scientist (Christopher Lloyd) who by mistake sends his young friend (Michael J. Fox) 30 years into the past. A great mix of humor and an interesting, self-enclosed story was followed by two sequels. "Back to the Future" was 1985's highest-grossing film.
2. The Terminator — James Cameron's low-budget classic set up one of the big screen's most iconic sci-fi roles. Future governor Arnold Schwarzenegger plays a cybernetic murderer teleported back to time from a post-apocalyptic future to stop the birth of a future rebel leader.
3. Star Trek IV: The Voyage Home — The hilarious of all the Trek films, "Voyage Home" afforded the one-time Enterprise crew with an invincible reason to travel back in time to 20th century Earth: to save the whales.
4. The Time Machine (1960) — Marvelous film adaptation of H.G. Wells' classic novel was release from the UK, directed by George Pal. An Oscar winner for its visual effects, "The Time Machine" follows the voyage of a man from Victorian England as he visits three world wars as well as a nuclear war in the late 1960s, sooner than reaching the very far future.
5. Time After Time — Also inspired by H.G. Wells' "The Time Machine," directed by Nicholas Meyer, cleverly uses Wells himself as the character and invents that the author was able to build a working time machine. But when Jack the Ripper uses the machine to trip in time to the year 1979, San Francisco, Wells (Malcolm McDowell) hunts on to track down the killer. Are you fond of some? Share your impressions.
Michael J. Fox and Christopher Lloyd, Back To The Future